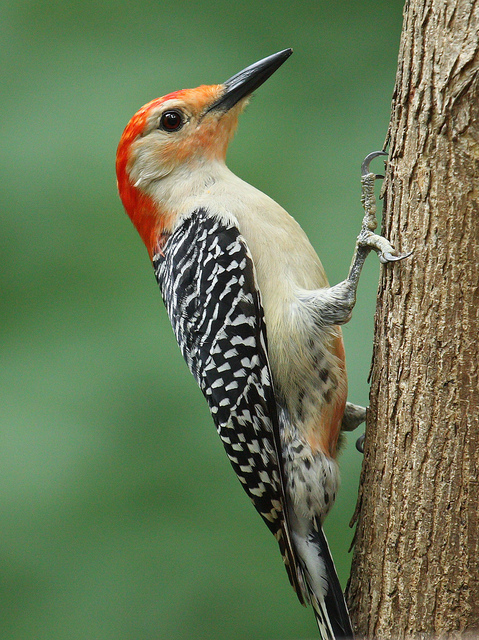 I'd love to be camping right now, somewhere nice and inaccessible, but the fact is I must be on a computer, earning my paycheck. I am fortunate however in that I can work from the comfort of a screened-in back porch with a lake view. It also has a view of my bird feeder. I am a big fan of finding the sacred wherever you are, and I was on a futon with a laptop, grading. If I must sit still for a long period of time, and look up every time a movement catches my eye anyway….
Live tweeting my bird feeder (see what I did there?): Carolina wren

— Sara Amis (@GollyMollyB) May 6, 2014
Now, I look at that bird feeder every day. Even when it's too cold to sit on the porch, you can see it from the dining room and observe the other, feathered diners as they swoop by the window. But there are some things you can only know if you sit with something for a while. For example, I knew already that early morning is the busiest time of day for the feeder; if you wait until 9 am to get up and make your coffee, you have already missed the show. (I miss the show frequently). What I didn't realize is how many birds visit, and how often. Judging from my posts yesterday, at 7 am there was a bird every couple of minutes, and sometimes more than one. Later in the morning it slowed down to about ten an hour, and by the afternoon it was more like four an hour.
There are many repeat visitors throughout the day as well. One chickadee or tufted titmouse pretty much looks like another, but I'm pretty sure there are two red-bellied woodpeckers (one is smaller than the other). House finches were very frequent visitors and there were at least two mated pairs.
Tufted titmouse came back, then finches tried to chase it away. #finchinthemanger #birdfeeder

— Sara Amis (@GollyMollyB) May 6, 2014
They're also pretty aggressive. The woodpecker is the largest bird that comes to the feeder, and doesn't bother to chase other birds away (though they will scatter anyway, often retreating to a nearby branch until it leaves). The finches on the other hand are relatively tiny, but this town isn't big enough for them and everybody else. They'll attempt to drive other finches and other birds away from the feeder, and they are there a lot. I wasn't sure why, until…
A pair of finches. I am hearing loud obnoxious cheeping from the roof, so I suspect finch babies. #birdfeeder

— Sara Amis (@GollyMollyB) May 6, 2014
We all know parenthood can be stressful at times…The two pairs of finches I saw most often nest in opposite directions, and they call to their mates in flight and chat while on the feeder. If they can see the cat, they eye her and tell each other loudly "I SEE A CAT!" "I SEE A CAT!" "CAT!" I now know when there's a finch about even if I can't see it. Chickadees chirp while feeding, but tufted titmice don't, and neither do nuthatches. Most birds sit on the perches right side up, but a nuthatch will hang head downwards, sideways, or any old way.
All of this I learned from just sitting there. That and paying attention.