Today was a fantastic day. I did two unusual things. The first was meeting my fellow Sense of Place author Rhyd Wildermuth for the first time. The second was buying clothes. More on the second in a moment. (Trust me, it's relevant.) Rhyd and I talked about a lot of things, but the thing that stayed on my mind as I left him and set off in search of new clothes was what we discussed about Seattle as a place that we both feel we can call "home".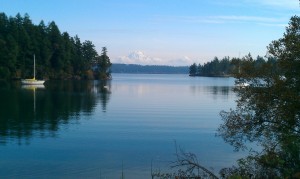 It's not that Seattle is the absolute most magickal place that either of us has been to. It's not that it's the most peaceful, the most friendly, the place with the best jobs or any number of other things that you can think of. Seattle is pretty magickal, no doubt. It's also got some fantastic communities, religious, political and otherwise, with many wonderful overlaps and lots of juicy diversity. Those communities also have some amazing drama-filled conflicts at times. There are good jobs here, but mostly if you fit into certain pre-defined categories. Don't EVEN get me started on the gender imbalance in tech jobs here, or the way that startups often exist as diversity-free zones where everyone thinks and acts the same, or the fact that only certain kinds of skills are well paid while the rest of the workforce can struggle along on the scraps left over.
Yep, this place has got plenty of flaws. But, oh my goodness, I love it here! I may or may not be capable of putting down roots like "normal people" do, but this city will always be close to my heart. I can give you many reasons for that, but something that was said in our conversation just hit it home for me.
This is a place where I can make a stand for the things I believe in.
It's not just politics, but it is about a political process. I'm not talking about government here, though government might be part of the equation. I'm talking about the process of working with the people in the local community/communities to make things better for all of us. I'm talking about the ability to push things in the direction that I believe is best without having to be the lone voice in a sea of opposing views. I mean that this place is a place where the things I want to do and be have momentum, have communal support. It's not just the physical place with the gorgeous views of the Salish Sea and Mt. Ranier and so many evergreen trees that it feels like no one bothered to move the forest when they built the city. It's the people here.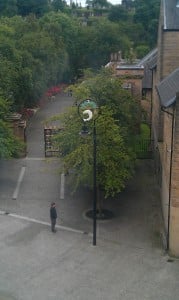 And frankly, that's a big part of why I love Glasgow so much, too. Despite the "West of Scotland Male" with his stereotypical inability to express emotion, or the weird pressures between the uber-capitalists and the rest of the population, or the Glasgow Effect wherein you are more likely to die younger living in Glasgow no matter what your health profile is otherwise than you would living in any other city in the UK. Despite the decay of the poor neighbourhoods or the knife crime on the streets that are supposed to be blade-free, I still feel a sense of optimism whenever I'm in Glasgow. It's a place with momentum towards good things. It's a city of creativity with an incredible capacity for building massive things. It suffered through a long and painful down cycle after most of the shipbuilding and other big industry shut down, but whenever I am there I see the signs all over the place that the city is rising back up as strong as ever — maybe stronger.
Both places whisper in my ear and tell me that they could be home. Both places promise me that I can be a part of good things. Both places tell me that I can be a part of wonderful, overlapping communities of people building a future that I want to live in.
Maybe I don't get to be monosituated. Maybe I just can't grow roots. I don't know.
But I've decided to make this place home, nonetheless. Maybe not my only home. I don't know what comes next. But a couple of weeks ago I bought myself a bicycle — something that makes my permanent state of travel a little more difficult. (Ironic, isn't it?) And now I've bought more clothes. For the first time in a long time I have more stuff than can fit in my backpack and my roly carry-on suitcase. The bike cost less than a week's car rental, so maybe I'll be back in Scotland in a few months and I'll ditch it on Craigslist. And I can always give some of my older clothes to Goodwill. Owning a bike and too many clothes isn't quite the same thing as being stationary. But it feels like a big step for me.
On Thursday I'm heading to Moscow, Idaho to see my brother for a few days. After that I'l go visit my son's family in Walla Walla. Washington for a day before heading back to Seattle. On the 15th I'm going to New York. On the 21st I go to Boston… This doesn't sound like I've given up my nomadic life, does it?
Let's see what happens when I get back to Seattle, and my bike, at the end of this month.