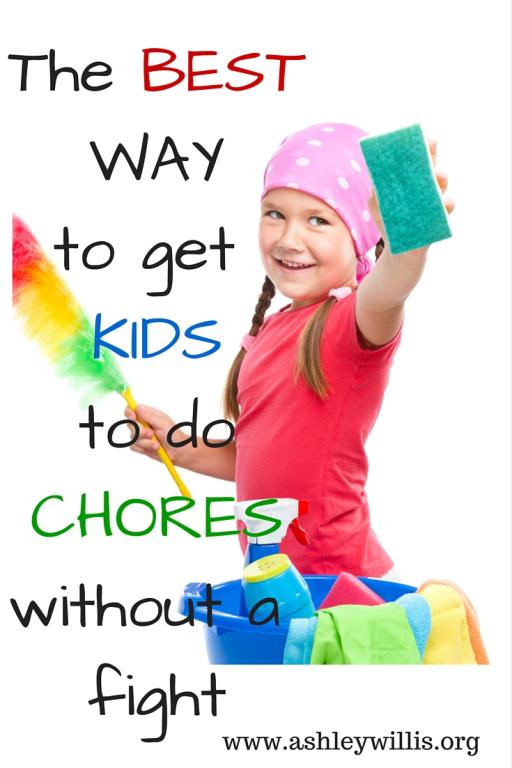 A few months ago, my husband, Dave, and I were totally at odds with our kids. Day after day, we would be getting everyone ready for bed and see that the two older boys, ages 8 and 10, had been careless with their chores.  This had become a terrible cycle.
You might be familiar with it too…
Mom and Dad tell kids to do "X, Y, and Z" chores by "such-and-such" time.  
Kids begin the chores and try to finish them…carelessly…as fast as they can.
Mom and Dad tell kids to go back and do it AGAIN.
They do…well, sort of. Things are still messy, and bad attitudes begin to erupt from both kids and parents.
Mom and Dad get angry, scold the kids, and have the kids do it YET AGAIN….or the parents end up doing it themselves because they are exhausted from this song and dance. 
Ever been there?  Well, that is exactly where we were.  Furious. Exhausted. Disappointed.
I felt like I was to the point of fracturing my relationship with our kids because it seemed to always end in an argument…something I said I would NEVER do with my kids.  Right?  I can faintly hear my pre-mom self declaring,"I will never engage in an argument with MY kids!".  Ugh.  Failed that one.
After dealing with this for too long, I decided to try something new (at least to us).  It's not earth-shattering or complicated in anyway, but it has completely changed the way my kids, and even I, see household chores.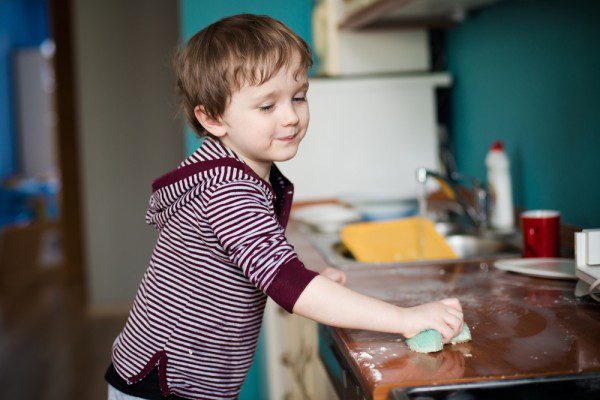 So, here it is…
Designate a "Chore Day" where the whole family cleans the whole house at the same time.
Since Saturday has become our Sabbath, or rest day, I decided to make ours Sunday morning before we went to church.  We wake up, have breakfast, and assign tasks.
I have Cooper, my ten year-old, vacuum upstairs, Swiffer-mop the bathroom upstairs and downstairs, wipe the baseboards downstairs, empty the dishwasher, and clean his room.
I have Connor, my eight year-old, dust the furniture, clean the upstairs bathroom, wipe the baseboards upstairs, and clean his room.
Chandler, my three year-old, has "air freshener duty" upstairs and cleans his room.
My husband does the laundry…which is some amazing "chore-play".  (Check out "3 Parent Hacks to Get Some Mommy-Daddy Alone Time" to make the most of this.)
And, I mop the kitchen and hardwoods downstairs, vacuum the downstairs rugs and bedroom, clean the Master bathroom, completely scrub the kitchen, and load and start the dishwasher.  As I am finishing up my chores, the older two boys rotate being on "Chatham Duty", or watching our nine month-old baby as he is playing with his toys.
When we are all working together, the silence is like music to my ears. We are all doing our part to maintain our home.  This doesn't negate daily chores like putting away clothes, making beds, and tidying up bedrooms, but Chore Day has made a huge difference in all of our attitudes.  Here's why I think it works:
1. The kids are "helping with" and "responsible for" certain cleaning tasks.  
We are sure to use those key words when having our kids do their chores because it changes their perspective.  They respond much better to, "Can you help me with _____?", as opposed to , "Go clean ______.".  I also try to praise their work whenever I can.  It's neat to see them beaming over a job well done.
2.  The kids realize how much work goes into taking care of a home.
Ever since we instituted Chore Day, the kids have been even more willing to pitch in throughout the week.  They have a better understanding about how long it takes to do laundry and clean all of these rooms because THEY are doing the job.  There's no better teacher than that of experience.
3.  Mom and Dad don't feel as overwhelmed with household tasks because the kids are pitching in.  
Ever since we started Chore Day, I haven't felt as overwhelmed.  It's so nice to have the kids' help both practically and emotionally.  I often felt at odds with them when they wouldn't live up to my expectations in doing their chores.  Now that we are all working together on Chore Day, there is more peace in our home.
4.  The kids are learning real life skills.
I often tell my boys that Chore Day is preparing them to be better husbands and fathers.  They laugh it off and shake their heads, but I honestly believe it.  Our kids need to know how to take care of themselves and others.  As they clean, I am sure to thank them for helping take care of our home.  When they keep an eye on their baby brother as I finish mopping, I am sure to praise them for taking care of him.  I want my boys to understand these essential life skills, and Chore Day is full of those kind of teachable moments.
5.  The kids aren't focused on themselves–they are focused on the task at hand and helping the family.
As kids, we start out thinking that the world revolves around us.  We go from one fun thing to another.  Yes, kids need to have lots of time to play and explore, but it is so important for us to teach our kids that life is not all about them.  In fact, it's not all about us, the parents, either.  It's about loving God, loving others, and serving the world.  Chore Day helps to instill these values on a very basic and simple level.
Here are some important tips to consider when establishing a Chore Day or assigning chores to your kids:
* Be sure to use cleaners that are safe for children.  Read the labels!  Just because they are "natural" doesn't mean they are safe for kids to use.
*Make sure each assigned chore is age-appropriate.  Can they reach the area you want them to clean? Can they understand your directions as to how to complete the chore? Are they physically able to complete the task?
*Be consistent with Chore Day.  Make it the same time every week.  Then, it will become part of your weekly routine.  
*Tie the successful completion of their assigned chores to a specific reward.  For example, our kids receive their weekly allowance based on fully completing their chores and having good attitudes/behavior throughout the week.
*Don't give up if it doesn't go perfectly!  This is one I have to remind myself every Chore Day.  As long as the area gets cleaned, clothes and dishes are put away, and everything is tidy, then I need to be thankful.  The kids may not do a specific chore EXACTLY the way I would, but I am happy as long as the job is done well.  The kids are learning, so we need to give them some grace as they get better at completing each chore.
*Make it fun!  Turn on some music.  Have some cookies waiting for when you all finish.  Dance while you are cleaning.
Believe it or not, Chore Day can be some quality family time that you just might enjoy!
If you do this with your family, I would LOVE to hear how it goes!  Please connect with me on my NEW Ashley Willis Facebook Page , and you can follow me at Ashley Willis Pinterest Page.
Be blessed!