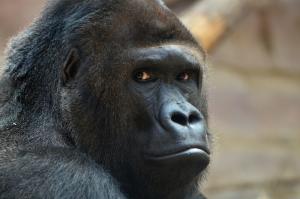 If you've watched the news or scrolled through social media the past few days, then I'm sure you've seen the terrifying footage of a four year-old boy falling into a gorilla cage exhibit at the Cincinnati Zoo and being pulled around by Harambe, a gorilla who unfortunately had to be shot to keep the child safe.  It's horrific and gut-wrenching to watch.  And, I'm sad that the gorilla had to die.  But, let's talk about the real issue that has been brought to a blazing light throughout this story:
Mom-shaming is at an all-time high due to the crazy amount of apparently perfect parents out there.  And, I'm most definitely not one of them. 
Over the course of the past few days, I've seen countless posts about how terrible this mother is or how she is the responsible one for having Harambe killed.  There have been so many of these toxic comments plastered all over the internet, and I am not going to copy and paste any of them into this article.
Enough, already!
This incident was a nightmare for this family, the zoo, and all the bystanders.  Terrible!  I can't even imagine what this family has been through…not to mention the huge backlash.
So, let's stop this madness and pray or this family, the zoo, and the other families involved.  
No one wanted this to happen.  This poor mother and child have been through enough.  She will carry this nightmare with her forever.  She feels the daggers in her back and hears all the scathing comments ringing in her ears.
But, it's over.  And, thank God the little boy is okay.
Sure, we should mourn the loss of the animal, but I repeat–THE FOUR YEAR-OLD BOY WHO FELL IN THE GORILLA PIT IS
OKAY
.
As a mother of four boys, I can honestly say that I could see this incident happening to us.  We, too, have a rambunctious four year-old boy who is as inquisitive and energetic as Curious George.  I haven't thought for one minute that he couldn't have jumped that fence and found himself in the same nightmare lickety split.  Just the thought of it sends shivers down my spine.
Are we too prideful as a society to assume that this kind of nightmare can't happen to us?
I'm not a perfect parent, and I've yet to find one.  God is the only perfect parent.  My goodness, even Joseph and Mary lost Jesus for THREE DAYS and in a FOREIGN LAND (Luke 2:43-47).   The parents of the Son of God!  
I take comfort in this.  I'm relieved to know that I'm not alone in my struggle to be a good parent–to raise my kids right and yes, to keep a close eye on them.  But, I'm imperfect.  I make mistakes.  And, apparently, Jesus' parents did too.
Instead of debating this, replaying this over and over, or lashing out at the mom or the zoo or whoever people think should get the blame for what happened, let's thank God that the child is okay and pray that we can all learn something from this.  
If anything, I think we can all agree that we need to remember Jesus' famous words to the crowd furiously wanting to stone a woman.  In John 8:7, He said this,
"…He that is without sin among you, let him first cast a stone at her."
If there was a mic to drop back in those days, then He would've dropped it for sure.
Instead of judging this mother, let's offer up a prayer for her and her family.  I think that's what Jesus would do.
Thank you for reading, sharing, and commenting.  I'd love to connect with you on Facebook, Instagram, and Pinterest. Be blessed!