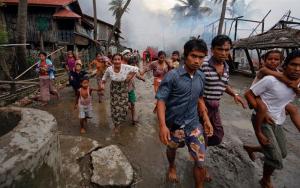 Did we really mean "Never Again" after the holocaust? After the World War II, the civilized nations made a commitment to never allow another genocide to happen again.
Unfortunately, we have been witnessing another genocide against the Rohingyan people. Yet the world is mostly silent, specially the world leaders, barring a few.
Updated on February 3, 2018, based on email communication by Burma Task Force. (Rest of the original article starts after the red headline below)
Action Alert: Sign-up For Rohingya Advocacy Day.
The whole month of February we will be calling legislators in Congress to support Senate bill S.2060 and House Resolution H.R. 4223. Urging them to strengthen the bills to impose stricter sanctions on Burma.
These calls are a lead up to Rohingya Advocacy Day on February 28, when supporters of Rohingya will meet their legislators at their offices on Capitol Hill to press for support of these crucial bills.
What: Meeting your legislators & urging them to support bills S. 2060 & H.R. 4223.
Where: Capitol Hill. Washington D.C.
When: Wednesday, February 28, 2018.
Your support can and will make a difference. Please register for Rohingya Advocacy Day!

Mark Your Calendar:
Feb 1-Feb 28: Call-a-thon: Call your senators and representatives to support the bills and tweet them every other day.

Feb 3-11: Write-a-thon: congregations/constituents will gather in the evening and the weekend to write handwritten letters to enhance online activism.

You can write to the congress now and urge them to take action.

Find your senator here. Find your representative here.

Feb 12-25: Meet-a-thon: Meeting representatives and senators in their constituencies.

Feb 28: Rohingya Advocacy Day will bring Muslim Americans and interfaith groups (and anyone who cares about their fellow human beings) to meet their representatives in their Congressional offices. Amnesty International is organizing a similar action on Feb 26th. We aim to gather as large a group as possible. Sign up here.
In The News
Recent news developments have continued to pressure and embarrass the Burmese government. US diplomat Bill Richardson, hand picked by Suu Kyi to be a member of another advisory commission on Rakhine state dramatically resigned from the post.
Richardson, cited the fact that the commission was staffed by Suu Kyi sycophants, and had the express goal of being a "whitewash" of the genocide of the Rohingya. Also, actress Michelle Yeoh who played Suu Kyi in a 2011 biopic on her life visited Rohingya refugee camps, and described their treatment by Burma as "despicable."
Back to the original article:
Did we really mean "Never Again" after the holocaust? After the World War II, the civilized nations made a commitment to never allow another genocide to happen again.
Unfortunately, we have been witnessing another genocide against the Rohingyan people. Yet the world is mostly silent, specially the world leaders, barring a few.
When there is systematic "ethnic cleansing", why is it not viewed as genocide? At the very least, there are serious human right violations. Yet the world leaders remain silent on this human tragedy.
At the annual dinner of my Interfaith Council of Contra Costa County last week, we had one of the Rohingyan teenage girls, Tasmin, make a heartfelt appeal to support her community. She is a foster child of one of the members of the local interfaith women circle. After moving through various countries, she ended up in the USA about a year ago. She is the only one from her family who was able to escape. Her parents and other members are still trapped in Myanmar and facing persecution. Hearing her personal story gave a human face to this genocide.
Definition of Genocide:
The Article II of the international Convention on the Prevention and Punishment of the Crime of Genocide states[1]:
In the present Convention, genocide means any of the following acts committed with intent to destroy, in whole or in part, a national, ethnical, racial or religious group, as such:

(a) Killing members of the group;
(b) Causing serious bodily or mental harm to members of the group;
(c) Deliberately inflicting on the group conditions of life calculated to bring about its physical destruction in whole or in part;
(d) Imposing measures intended to prevent births within the group;
(e) Forcibly transferring children of the group to another group.
Rohingya Muslims Genocide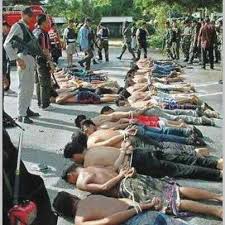 Rohingyans are Indo- Aryan community from Rakhine, Myanmar (formerly named Burma). They are predominantly Muslims, though some are Hindus. They have been living in Burma since the 8th century. They have faced ethnic cleansing for many decades. The current crackdown by the Myanmar military started couple of years ago. They have been facing persecution, discrimination, rape, murder, torture and forced migration, that has escalated to a human rights crisis in the last two years or so.
The U.N. reported over 600, 000 have fled to the neighboring Bangladesh. Others have a higher estimate, totalling up to a million refugees. Their women have been raped, men tortured, kidnapped ("disappeared") and murdered. According to the Burma Task Force, 140,000 Rohingyans are internally displaced and entrapped in the internment camps. Access to education, healthcare and food has been restricted.
The UN in 2013 described them as one of the most persecuted minorities in the world.
Human Rights Watch and the British Prime minister have termed it 'ethnic cleansing'.
Yale Law school study called this a genocide.[2]
Nicholas Kristof of NY Times termed their plight as "an appalling apartheid" in 2014[3]. (The situation has only worsened since.)
Archbishop Desmond Titu calls it the "slow genocide against Rohingya".
The government of Myanmar has sought to absolve itself of responsibility for the conflict between the Rakhine and the Rohingya, projecting it as sectarian or communal violence. I would be more inclined to heed the warnings of eminent scholars and researchers including Amartya Sen, the Nobel laureate in economics, who say this is a deliberately false narrative to camouflage the slow genocide being committed against the Rohingya people. There's evidence, they say, that anti-Rohingya sentiment has been carefully cultivated by the government itself. [4]
Organizations working to help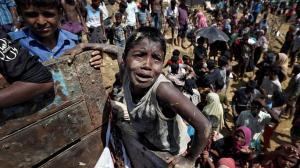 Burma Task Force has been instrumental in raising awareness of the genocide of the Rohingyans. Imam Malik Mujahid, founder of Radio Islam and Sound Vision and past president of the Parliament of World's Religions, is also the president of the Burma task Force.
Watch the 57-second video here. (Courtesy: Burma Task Force)
How can you help?
There are many ways to raise awareness. The simplest is to pass the word around on your social media.
There are currently couple of bills in the US congress, one sponsored by Senator John McCain, the other by Rep. Eliot Engel.
Senate Bill 2060: To Promote Democracy and Human Rights in Burma and House Bill 4223: Burma Act of 2017.
Update (11-15-17)
The US Secretary of State Tillerson is in Myanmar for the first time on November 15, 2017.
Unfortunately, he has not pushed their government to halt this genocide.
It is, therefore, critical for him to hear from you and your representatives right away. During this visit, it is crucial that Mr. Tillerson mentions the Rohingya by name and demand the end of genocide or face sanctions.
Urgent: Call & Tweet
US Secretary of State Rex Tillerson
Tweet: @Secy_State_US
Phone: 202-647-2663
Scot Marciel, US Ambassador to Burma
Twitter: @USEmbassyBurma and @scot_a_marciel
Phone: (95)-(1) 536-509
According to the Burma Task Force, the bills will:
Mandate the U.S. government take steps to end the persecution against the Rohingya, and other ethnic peoples of Burma.

Facilitate continued U.S. humanitarian assistance to the affected people.

Implement targeted sanctions against Burmese military officials responsible for the atrocities.

Prohibit U.S. military-to-military cooperation with Burma's army.

Call for full implementation of the recommendations of the Kofi Annan Commission on Rakhine State.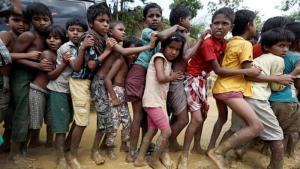 Why should you care about something that's happening on the other side of the planet, so far away from home? In the unforgettable words of Rev. Dr. Martin Luther King:
Injustice anywhere is a threat to justice everywhere.
If we don't speak up against injustice, we are contributing to it.
The Qur'an urges us to help these children, women and the oppressed:
And how could you refuse to fight in the cause of God and of the utterly helpless men and women and children who are crying, "O our Lord! Lead us forth [to freedom] out of this land whose people are oppressors, and raise for us, out of Thy grace, a protector, and raise for us, out of Thy grace, one who will bring us helper!" 4:75
The least we can do is to speak up,contact our representatives (as noted above), pass the word to others to raise awareness or just offer a prayer.
Will you?
You can share it on your social media noted in the upper left hand. Spreading the word will help raise awareness but please don't forget to contact your representatives as noted above.
Pictures courtesy: euronews.com, bdnews24.com, Deccan Chronicle.
[1] http://www.un.org/en/genocideprevention/documents/atrocity-crimes/Doc.1_Convention%20on%20the%20Prevention%20and%20Punishment%20of%20the%20Crime%20of%20Genocide.pdf
[2] http://www.mcclatchydc.com/news/nation-world/world/article41822457.html
[3] https://www.nytimes.com/2014/05/29/opinion/kristof-myanmars-appalling-apartheid.html
[4] http://www.newsweek.com/tutu-slow-genocide-against-rohingya-337104