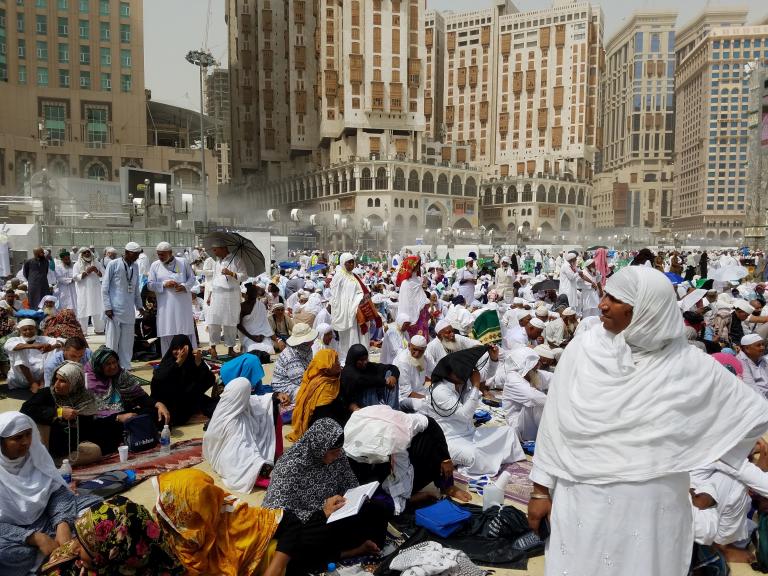 So far we had performed the first Umrah in Mecca and we had couple of more days before we would leave the comfort of our hotel rooms and head out to the desert tent cities around Mecca for remainder of the rituals- to be performed in Arafat, Muztalifah and Mina. This gave me an opportunity of a lifetime- to offer Friday prayer at Ka'aba!
I left my hotel room around 9 a.m. for the Friday prayers with the thought that I would beat the crowd, as we had about three and a half hours before the Friday adhan ( call to prayer).
Well, everyone must have thought the same, as I found out the gates to the Grand Mosque were already closed! The Grand Mosque was already full and pilgrims were lining up in the yard and the streets leading up to the mosque. The streets were closed for traffic for that very purpose.
Instead of the rather comfortable environment inside the mosque, the pilgrims were taking their spots on the concrete yard under the scorching sun with temperatures in 105 degree range around 9:30 AM!. Along with other pilgrims I actually consider myself very fortunate to even get that spot, which I was able to barely get to. Congregational Friday prayer at Ka'aba is considered a pinnacle for the pilgrims and a dream for all Muslims.
We spent time supplicating, remembering God, asking for forgiveness. But I also saw random act of kindness as we all waited for the Adhan. People were offering each other water, umbrellas, sprinkling cool mists, letting them borrow their cooling (portable hand-held) fans just to name a few.
It was jammed packed practically every time we visited the haram/Ka'aba but Friday was incredibly busy when I found out what shoulder-to-shoulder actually means! I am also sharing another short video with the focus on my water bottle, to illustrate how crowded it can get inside the Ka'aba during Hajj. The video speaks for itself.
This was about the time we were getting ready to leave for Arafat onto Mina, where we will spend five nights in the tents, including one night under the sky with nothing over our heads. I will share that part of my Hajj pilgrimage and its significance in the next couple of posts.