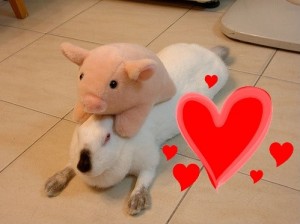 Venus conjunct Neptune is exact on Thursday, but is in effect throughout the week. Remain calm until the authorities sound the all-clear signal. In the meantime, be on the lookout for the following suspicious occurrences:
A sudden fondness for comfort and affection, but not accompanied by the usual wariness and/or cynicism.
Attraction to new and/or unusual people, or a peculiar willingness to overlook the flaws you would usually notice in others
Unusually strong urges to blow off your budget and/or your diet
A preference to watch amusing videos about kittens or puppies rather than finish that project your boss has been yelling about
An urge to learn a new recipe, write a haiku, or buy a surprise gift for someone for no obvious reason
Sudden rejection of common sense and practicality in favor of doing something because "it feels right"
In the event you experience any or all of the above symptoms, remain calm and take no definite action until next week, when the Venus-Neptune conjunction has finished.
You wouldn't want to screw up your routine just because you've found someone or something new to love or a new way to express yourself, would you?
Seen your January Horoscope yet? If not, click here for all the details!