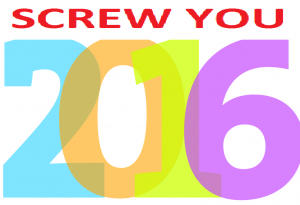 Feeling feisty? Maybe it's the optimism that we're entering a year that will (hopefully) not suck as much as 2016 did. Or, it could be the Mars-Neptune conjunction that's in effect until about the 9th, supplemented by a Mars-Pluto sextile effective around January 7th to the 15th. The middle of those two aspects also sees Mercury come off its retrograde on the 8th, so you may want to keep your mouth shut around your boss or loved ones before then. Those Mars aspects lend energy to a situation, but when Mercury is retrograde you're more likely to park your foot in your mouth when you actually intended to kick some ass.
That Mars energy may make for some aggression, but Mars also rules the sex drive. But don't forget that although (INSERT THREE PARAGRAPHS ABOUT HOW SEX IS ALWAYS BEST WITHIN THE CONTEXT OF A LOVING COMMITTED RELATIONSHIP, ET CETERA ET CETERA) Venus will be conjunct Neptune from the 9th to the 17th. That means that yes… that could be your Dream Partner out there. Or it could also mean that yes… you could be totally delusional and the man telling you about the candy he has in his van is NOT your Twin Flame. Love and Delusion are closer neighbors than many of us would like to think.
The biggest news for everyone this month is the Jupiter-Uranus opposition, which is in effect throughout the month… in fact, you'd better get used to it, because this aspect will be felt throughout much of the year. This could be a great time for cutting loose and doing things in new and interesting ways. The bad news is: The Bad Guys will be experiencing the same effects. Most people don't think of the chilling and limiting effects of Saturn as "helpful," but it makes helpful aspects to both Jupiter and Uranus this month. Long story shot: that brilliant idea you've been sitting on for a while now? Get off your butt and do something with it. The obstacles that have held you back can be shoved away with the right effort this month.
A Full Moon is traditionally considered to be a time when people get moody and irritable, and this month's Full Moon is in Cancer, which has reputation for being like that in the first place. Be kind to yourself and to others, and lock the door just to be safe — this Full Moon is square Uranus and could thus be nuttier than usual. On the other hand, A New Moon is often a good time to initiate a new course of action, and this month's New Moon is in Aquarius on January 27th… and yes, Aquarius has a reputation for taking new courses of action.
In general, if you're starting out on a new task or initiative, avoid starting when the Moon is Void of Course.
A listing for those times and dates is here.
Finally, Mars enters the Sign it rules (Aries) on January 28th. Whether you started off on that great new adventure with your life like I recommended you do a few paragraphs ago, or just made a total hash of the whole thing, Mars in Aries should give you the momentum you need to keep up the good work — or the strength to sweep the whole mess under the rug.
Now: Click on your Sun and/or Rising Sign (heck, why not both? It works better that way) below for this month's Secret Horoscope Message!
Aries (March 21 -April 19)
Taurus (April 20 – May 20)
Gemini (May 21 -June 20)
Cancer (June 21 – July 22)
Leo (July 23 – August 22)
Virgo (August 23 – September 22)
Libra (September 23 – October 22)

Scorpio (October 23 – November 21)
Sagittarius (November 22 – December 21)
Capricorn (December 22 – January 19)
Aquarius (January 20 – February 18)
Pisces (February 19 – March 20)