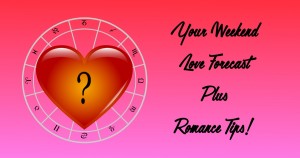 Both Venus and Mars are in Aries right now, which can lead to emotional impulsiveness. Have fun with it, but make sure your heart has a Designated Driver. Keep in mind that Mercury sextile Mars is still in effect, which means your communication skills should be sharp. Go ahead and talk someone into something (and of course, be careful with others who are trying to talk you into something).
***
FRIDAY: Normally Moon in Scorpio on a Friday is an excellent indicator of steamy and sexy potential — except when that Moon is Void of Course as it will be this evening. Get frisky within the context of an established relationship, because starting something new tonight may not lead to anything lasting.
SATURDAY:
Moon in Sagittarius
sets an adventurous party mood, which can be great for getting out and meeting someone new or pumping some fun into your current relationship.
SUNDAY: Yes, sometimes romantic action can happen on a Sunday evening, especially when Moon in Sagittarius is trine Mars in Aries. Put the emphasis on entertainment and good times: make lovin' fun!
***
THIS WEEK'S ROMANCE TIP:
Ever wonder why it's so romantic to sit and watch a sunset with someone? That may be because when there's a sunset happening, the Sun in what astrologers call "The Seventh House." That's means that there's an added emphasis on romantic partnerships at that time. The Seventh House is sometimes called "The House Of Marriage." There's no need to propose if you don't want to — but your odds of getting a "yes" will be slightly improved.