Remnants of old British customs and traditions barely linger these days.  Commercialised Halloween has covered up apple bobbing, divination, bonfires, scary stories and effigies of the dead (in the guise of Guy Fawkes, a celebration that is still alive but 'penny for the Guy' is dead) with mass produced sweets and kids with sugar highs for a week.
I'm old enough to remember celebrating Halloween without the commercial trappings.  It wasn't a big deal, really, in late 70s suburban London. As a girl with my Brownie group, we played games, dunked for apples and then as I walked home with my mother, I looked for witches because that was the only day you could see them riding broomsticks in the night sky.
But even then, I knew that there was something ancient lurking in the night.  Halloween or Samhain is in our bones. And the dead come a callin'.
Since I moved away from London, I've adopted a tradition of visiting Old Winchester Hill in Hampshire on Halloween.  It's a beautiful walk to an Iron Age fort with unexcavated burial mounds.
We go there to leave offerings to the unknown dead. We can never know all of our ancestors so being grateful and respectful to a random, dead stranger (but as we're all connected is still an ancestor) is a big part of my Samhain ritual.  Whatever food we leave for the dead, we take enough for us to enjoy too.  W
This year, I've decided to make soul cakes to take to the burial mounds.
I've never encountered soul cakes nor souling, which is when people go from door to door and ask for cakes, apples and ale in exchange for a song or prayer.  According to Wikipedia, it's not practised anymore and I certainly haven't come across it.  But I love the idea of baking for Samhain – I'm sure the living and the dead would enjoy it more.
Soul cakes are not really cakes but more like a cross between a British biscuit and a scone.  They're flavoured with sweet spices and you mark a cross on top to show they are alms (we're mixing Christian with old Pagan traditions).
I adapted a soul cake recipe from a traditional soul cake recipe here.   I've changed it to vegan and converted the metric measurements to cups.  Mixed spice is found in UK supermarkets and is a mix of sweet spices (as the name suggests).  If you're not in Britain, you might not be able to find it but you can use pumpkin pie spice or similar instead.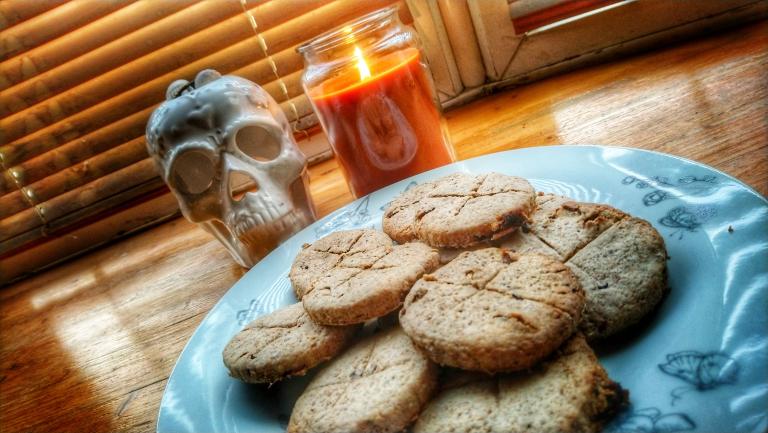 Soul Cake Recipe (Vegan)
1 cup of caster/superfine granulated sugar
1 cup of margarine or non-dairy spread
3 flax eggs
3 ½ cups of flour
2 tsp mixed spice
1 cup of raisins
Soya milk
Pre-heat oven to 180C/375F
Prepare the flax eggs by mixing 3 tablespoons of ground flax seed with 6 tablespoons of boiling water.
Cream the margarine and sugar together, and then beat in the flax eggs.
Sift the flour and the spice mixture into the sugar-margarine-flax mixture.  Add the raisins.
Add a splash or two of milk and stir to make a dough (you want it like bread dough).
Roll out the dough and cut out circles (about 1cm thick) with a biscuit cutter.  Mark each cake with a cross and place on a lined baking sheet.
Bake for about 10 minutes, until golden brown.
Enjoy and don't forget to leave one or two out for the dead.