I have had a love of tarot for well over a decade. In college I was fascinated by the mere idea, though no one I knew read it or knew anything about it. When I went off to grad school in Berkeley in my late 20s I finally bought myself a deck and started the slow process of learning about this intricate and beautiful art. Eight years on I'm still learning. I feel like I'm maybe, just maybe, no longer a beginner. Perhaps I'm at lower-intermediate level. I can do readings with some degree of accuracy for other people, though I still have to refer to my books far more than I'd like.
Tarot doesn't have relate in a specific was to Feri; however most witches and/or pagans use some form of divination. I find that tarot that engages parts of my brain in a way I don't normally use. Not only am I honing my intuition, I'm creative, I'm putting a puzzle together, I'm opening to something non-rational. On a spiritual level I'm letting my active, Talky brain use and get lost in pictures and definitions so that my Higher Self, my Godsoul, can connect with the Universe. Basically, I get out of my own way. I don't know how to describe it without sounding seriously WOO. All I know is…. tarot works.
Let's end a fallacy right now: tarot doesn't Predict The Future, although it can highlight what is a likely outcome if this or that path is taken. Don't like the proposed outcome? Change your path! Often I find tarot answers questions that weren't asked, or that went unspoken. I find it better than therapy. I tend to be way too heady for talk therapy and tarot has a way of tapping into my issues and patterns, again in a way that bypasses my Big Fat Brain. On some level we see what we want to see, but part of the skill in tarot reading is that we learn to move past what we think we want to see and get to heart of the patterns and symbols.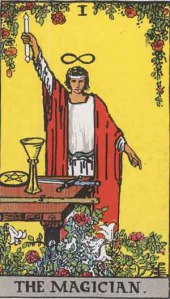 I love the art and symbology of the tarot. Most decks are based on the Rider-Waite deck. Many decks incorporate Kabbalah and/or astrology, two things that have never piqued my interest all that much. The deck that I use, the Celtic Tarot, is one of those decks based on the Rider-Waite (the cards are much prettier in person, I promise). I admit that the one thing I come close to collecting, besides books in general, are tarot decks. I also own the Golden Tarot of the Tsar, another Rider-Waite-based one merged with Byzantine Orthodox Christian iconography. I've hardly used it for readings though, because I find it….. odd. It's very beautiful, again the pictures on-line don't do it justice. I have Brian Froud's Fairy Oracle, because it's just so damn beautiful. I don't use it for readings – yet. After owning it for years I'm still learning this deck card by card. For whimsy/awesomeness' sake I have Edward Gorey's Fantod Deck. It's another deck I've never used, but might just try one of these days soon.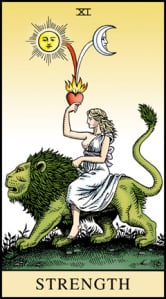 I've been thinking of trading out my old, faithful deck for a new one. I have the Alchemical Tarot waiting for me in the United States. There are a few other decks I'm waiting to be published. The Mary-El Tarot is one I've been following for five years. I'm hoping it finally goes on sale next year. Another deck to watch out for is the Chibi Tarot. My husband is actually designing his own deck! He, too, is fascinated by the tarot. His personal deck is another beautiful, complex art deck, the Tarot of Origins.
Art, symbols, the arcane and the occult, personal knowledge and mystery – what's not to love?