Winsome books that can be won.
I have three books to give away!
Make Magic of Your Life by T. Thorn Coyle.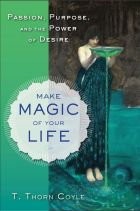 If you are a student of Feri or of Thorn's this book may be a bit rudimentary for you. You've probably already heard her say these things many times before. For those not familiar with Thorn's work or for those looking for a fresh perspective on integrating their passions into their lives, regardless of their spiritual tradition, I think this book could be very helpful. Thorn has a conversational tone to her writing, but don't let that lull you into complacency! Thorn expects that you put in the work of self-reflection and commitment to your self. I think this book could be appropriate for a person from any liberal spiritual tradition (I'm guessing readers of this blog fall into that category). Thorn is using a pagan framework to support her ideas, but again, I think any lover of religious tradition will be able to connect with the wisdom here.
Seeking the Mystery: An Introduction to Pagan Theologies by Christine Hoff-Kraemer. This is a small, introductory level book on the many kinds of pagan theologies (yes, plural) currently in use. It is by no means comprehensive, but is a rock solid start for the student of religions, for pagans wanting to dive deeper into their own tradition, for a professor who needs a text for their religions studies class, or for any person who thinks that paganism is just worshiping the devil and/or dancing naked in the forest. Whereas Thorn's book above is written at a very simple level (I think a bright middle school student could easily read it), this book is written for the undergraduate student or very bright high school student. I highly recommend this book, and I helped edit it!
Kali: The Black Goddess of Dakshineswar
by Elizabeth U. Harding. This is a fantastic book on Kali, her cult, her symbols, as well as the history and practices of a specific temple devoted to Kali. While this book is written by some one with a deep love of Kali, it is not a 'how-to' worship book. However, I think it is essential for Western lovers of Kali.
All three books are like brand new.
How to enter: comment below or on the blog's Facebook page. I'll need a name/handle and which book or books you'd like (yes, you can enter for more than one). If you are willing, I'd love to know where in the world you are. I'm a geography nerd and I think it'd be cool to see from where in the world you are reading. You can enter only once and I'll stop taking entries at 8 am PST on Friday. Sometime Friday afternoon I'll draw names out of a bowl for each book and will post winners that evening. I will send the books anywhere in the world, so anyone (including my family and friends; except you, Adam) from anywhere can enter. I will send books the way that is least expensive for me. I assume no responsibility for the quality or reliability of any postal service.
Yay books!