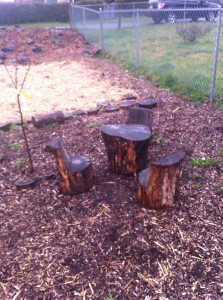 Last week my husband and I purchased our first house. A modest, but cozy thing, with a huge garden and a chicken coop just waiting to help us raise food. The house is very much not what we thought we'd go for when we started looking for houses. I'm a little embarrassed to admit it, but I suppose we both hoped for something a bit more….. presentable to certain upperwardly mobile eyes. By that, I mean, we wanted one of those beautifully redone craftsman homes that our town is known for.
Instead we found a funky house with a wicked slope, enormous yard, in a 'transitional' looking neighborhood off a major intersection with really ugly paint colors. And we love it. We closed midweek last week and moved in over the weekend. So far, we love this place. What we noticed through out our repeated looks at it, and what we find confirmed now that we live here, is that this place has excellent juju. The land and house were incredibly loved by the previous owners – and it not only shows, I feel it. The land spirits and house spirits seem happy.
The day after closing I came through and cleansed and blessed the space. I lit dragon's blood incense and opened every window and door. Then I went through with spirit food incense to feed the positive house spirits. My son carried a candle and I the incense and I chanted a prayer in every room. I am looking forward to making friends with the outside Land as well over the course of the next few months.
Of course, we're still in boxes. I haven't even set up my altars. Usually those would have been done first (after getting immediate basics out, like kitchen, beds, and toiletries). However, on Sunday night, the first night in our new house I went i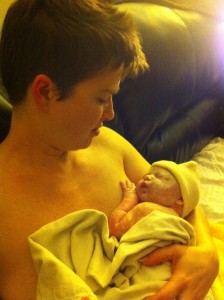 nto labor. I delivered my new baby girl, my third and final child, in the living room after two hours of labor. When I began having contractions my husband asked me if I wanted to set up my altar or have him dig out my incense or candles. No, things were moving too quickly. Instead I chanted to Kali Ma during contractions, until even that was too much. I tried to run the Iron Pentacle at one point, for fortitude, but I could not focus between contractions. A two hour labor is ridiculously intense, yet I felt the most present for this labor out of all of my three. I was keenly aware of my fear: fear of walking the edge between life and death, fear of the pain of birth. But I knew that I could not withdraw from it, lest I actually make it more painful and have labor last even longer. I gave in to it, I called on Kali, I dug deep, and it was my most painful and most liberating birth yet.
My new babe is now three and a half days old; she is tiny and perfect. I am recovering remarkably quickly, although the stress of the move and the clutter of the house and caring for other kids, plus a new born is just incredibly over the top. As my friend Thorn Coyle said, I don't do things by halves. There is no 'spiritual work' to be done right now, other than rest in all the work I've done leading up to now.
So on this note, I will continue to be infrequent for the next few weeks. I will repost some of my more favorite posts from earlier in the blog. Be well, my friends.