With the fall equinox just behind us and the Dark Season swiftly arriving with the rains, it's time to look ahead to what else is on Niki's "liturgical calendar."
Navratri – Beginning September 25
Navratri is a major Hindu celebration. The next nine nights (10 if you count tonight's welcoming of the Goddess/es) consist of celebrations and pujas in honor of Durga, Lakshmi, and Saraswati.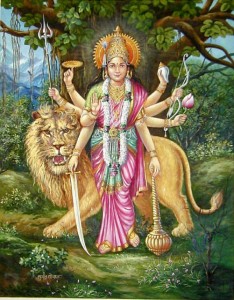 This evening my kids and I are going to clean up the front porch and create an altar where we'll leave flowers, a coconut offering, and a candle to welcome the Goddesses to our house. Starting tomorrow night I'll do puja before bed. The first three nights are in honor of Durga, the second three nights are for Lakshmi (however one of those days falls on Tues, a day I reserve for Kali, so I will add her to the mix), and the last three days are for Saraswati. Different parts of the Hindu world observe this holiday slightly differently. I think that precedent is set for observing in a way that has meaning for the individual, and as I am not part of any Hindu community, I mould the holiday to suit my situation. For more information on Navratri, may I direct you to the excellent Hindu Blog.
Central Puget Sound Pagan Pride – October 4
This will be my first year attending our 'local' Pagan Pride festival. It's in Tacoma, about 30 minutes north of Olympia. The whole family is going.
Great Fall Festival – October 12
The Tsubaki Grand Shrine of America is the only Shinto shrine in North America (although I think there might be one in Hawaii). They open the doors to the inner shrine and generally host a festival. I have never been to the Shrine, but have wanted to since we moved here. It's quite a drive for me though; it's about 3 hours away. Putting it on my schedule might be ambitious, but one of these years we will attend.
Dandelion Herb Conference – October 17-19
This conference isn't religious or spiritual per se, but I attended last year and felt that it was strongly Pagan-ish. It certainly filled a spiritual and educational need of mine. I'll be there again. While most people attending seem to work in herbalism professionally, either as health practioners or healers, there is room for nature lovers, newbies, spirit workers, community builders, and others.
Then we head into the High Holy Days….
Halloween – October 31
It's on a Friday this year! Now that my kid is in full time school, this matters! On this night we'll dress the kids up and go trick-or-treating. My three year old wants to be Elsa from Frozen, but when I asked her if would bother her if she saw lots of other Elsas she said yes. So instead she's going to be a dragon princess. Works for me!
All Hallows/All Soul's Day – November 1
This night we'll host our family Dumb Supper. We build an altar on the table and lay out food for the Ancestors and Mighty Dead. We eat by candle light and listen for what our Guests have to say.
All Saints Day – November 2
This day I'm thinking of doing something for/with the Virgin Mary. Not sure what yet. Stay tuned.