Christianity places an emphasis on a "relationship with Jesus;" it privileges that relationship above all other relationships. Christianity and monotheisms also see the physical world in need of domination and/or subjugation and/or stewardship; the physical world is most certainly not one to be in relationship with. What polytheism and witchcraft have been teaching me is the reality of a complex web of relationships that exist between me, communities, spirits, deities, and other other-than-human entities. (I prefer other-than-human to non-human, as the latter wording still privileges humans in an either/or connotation, rather than the broader and more open descriptor of the former.)
In the last few years I have been re-evaluating my existing relationships with human friends and family. I've been assessing just how I make friends and what kinds of people I seem to attract and pursue. This has been a painful, isolating, uncomfortable, lonely, and ultimately liberating process. Kali has been an instigator, ally, and comforter for me in this process.
While in meditation during Kali puja last night I had a flash of insight. This morning I stumbled upon a brilliant blog post by Anomalous Thracian on polytheism and relationship, which added more juice to the stewing. Among the many lucid things The Thracian says in his post I found this particularly insightful:
Not all relationships in polytheistic religious devotions or practice will be direct and transcendent or descendant or two-way-communicative. Not everyone has to be able to talk to the spirits and have them talk back, or use their well-polished "god-phone"5 to dial up every pantheon in the phonebook. …It needs to be clear that just as there is an enormous amount of diversity in the gods themselves — because poly- means many! — there is a huge and myriad selection of ways to be in aware relationship with them… and with ourselves, and our spirits, and the land around us.
Ain't those words the truth!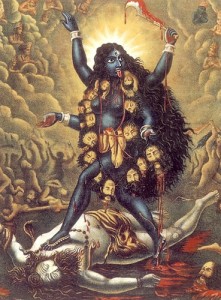 I am hard on myself, in just about every aspect of my life. I expect a lot out of myself, my life, and my relationships. Mostly this works in my favour, though not always. Sometimes the joy comes when I back off and stop taking things so seriously. Occasionally that is needed even in my spiritual work.
So as I sat in meditation before Kali at my altar I realized I need to re-evaluate my relationships with my gods just as I've been doing with my human relationships. Here are some of the questions I am asking myself:
Is this relationship mutually desirable? Mutually beneficial? Am I chasing the gods? Do I need to work so hard? If so, why? If not, why am I doing that? How am I being treated by this god? What are they asking of me? Is it desirable and/or possible at this time? Ever? Why am I honoring this god? Is it because they are flashy and cool? Am I avoiding them? If so, why?
I've decided that when Navratri ends on Friday night, after my final Saraswati puja, I am going to take a break from my devotions and religious observances. I'll start up again at the end of the month when the Samhain season begins. I want to see what occurs in the spaces when I am not observing. What thoughts come up? What do I hear? What happens to the relationships I've been building? I want to make sure my intentions are healthy.
I've already told Kali I plan to do this. "It's not you, it's me. This isn't a break up, I just need some space to figure things out right now." You know, just like people do in relationships.