IRL = In Real Life. As opposed to virtual life, which supposedly doesn't count as "real." Yesterday I wrote about how grateful I am for my virtual community. I don't agree that one's virtual communities aren't a part of our "real lives." The support, education, amusement, and connection I get from my online relationships are very real. However, it cannot replace in the flesh community and connection.
Forging relationships in the flesh is different than virtually building community. In the flesh we see how a person moves, hear inflections in the voice, feel the energy a person carries. In the flesh we communicate aspects of our being that cannot be conveyed in the written word, or even through pictures or videos. I try very much to meet up in person with people I'm friends with online. That fetch level connection can build trust and intimacy, or let me know that I should not invest too much energy into some one.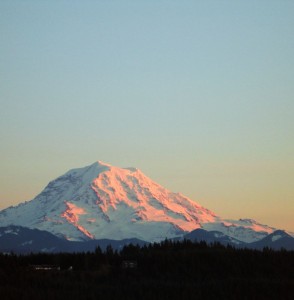 Beyond one-on-one relationships, "real life" community is part of being human. Humans are social creatures, even for the most misanthropic of us; we are interconnected beings. My community extends to my neighbors, to the families I meet through my kids' schools, to the people my husband and I interact with via business, shopping, and activities. Community is not just about humans though. My community includes this house and the land on which it sits, the forests where I walk, the herons in the wetlands near my house, even shining Mount Rainier that looms over my town – and all the spirits that exist in these places.
I struggle with IRL community. I'm a homebody, I'm distracted by my three kids, and I've been badly burned by some close friends in recent years. I have moved so much that I know it takes several years to understand a place and make friends. It's exhausting to start over.
On top of all of that, most of my spiritual community is spread out geographically, so our connection occurs online. Finding like-minded people in town can be awkward. No one stands around the school pick-up lot asking "Do you practice witchcraft? Cool, so do I!"
But I am finding people and places with whom I can connect here, and I am grateful.
I am grateful for Aikido of Olympia. My son is learning aikido, along with about 15 other elementary-aged kids. I am grateful for the patience of the instructors (who volunteer their time!). I am grateful that my son has a place where he can learn how to move his body and will with strength, grace and -yes- magic.
I'm grateful that I can sing with the Olympia Choral Society. I am so grateful that there is high quality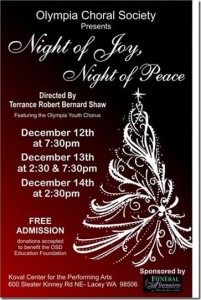 singing available to me, and that the community turns out in the thousands to hear us sing.
I am grateful for the amazing public schools in this town, that there are a variety of public school options in my community. I am grateful for the excellence of the teachers and administrators at my son's school. Knowing that my kid is in good hands, that his whole person is being educated in a way that builds on our family's values, is priceless, especially as a family that doesn't adhere to over-culture values.
I am grateful for people in my community doing beautiful work and providing opportunities for learning and connecting. There is the Dandelion Seed Conference that occurs every October. It's a place where I can learn and interact with others who value plants and land on a spiritual and holistic level.
Finally, I am making friends in this new place. Slowly but surely I am finding individuals and families here that are kindred spirits. If I know you "in real life," I am glad to know you!