I've been working on something. Something community oriented and non-verbal (more or less). Some of you may know that in my past I used to organize large conferences for Jewish studies in the San Francisco Bay area. I am putting those skills to work again! Rhyd Wildermuth, PSVL, and myself are working to bring you Many Gods West!
Many Gods West builds on the discussion that started this past summer at the Polytheist Leadership Conference in New York. We are not linked in any formal way, rather we are inspired by what happened there. Many Gods West is for polytheists of all stripes – Pagan and non-Pagan. Our working definition of polytheism is as follows: That the gods and spirits are real, and they are many. If that sounds like you, please put this conference on your calendar, like the Facebook page, respond to the event page, and stay tuned for more information! Website, call for presenters, key note speaker announcement, and registration all forthcoming!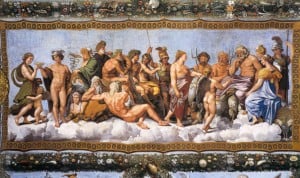 Basic information is as follows:
July 31, 2015 – August 2, 2015
Olympia, WA, at the Governor Hotel
Please spread the word! I look forward to seeing many of you in person next summer.