Over the last few years, as the polytheist "community" (faction? collection of people using this as a descriptor?) grows, there has been drama and contention about the words "polytheist" and "polytheism". Now that I am co-chairing a conference on polytheism I've been fielding questions about this word and our purpose.
Why Polytheism?
I cannot speak for other polytheists, nor for those who choose not to use this word. I will explain why I like this word and use it as a self-descriptor.
Polytheism, as I define it, has a two fold definition: that there are more than one god and that the gods are real. Technically, the word means only more than one god. My definition takes the literal definition one step further by adding a theological statement "that the gods are real."
Believing "that there are more than one god" differentiates a person from monotheists (one god) and atheists (no god), primarily. Some pantheists (all is god) will be excluded. Monists (one source) and duotheists (two gods, usually in the form of male and female principals) may or may not be excluded. I have no issue with the latter two; in fact, I am quite sympathetic to monism. However, accepting that there are more than one god means that we can't mush our language or theologies into a one-size-fits-all model. We have to get specific. It's a refusal of universalism, which starts to blur personal experience of particularity into theories of sameness for the sake of unity. Plurality is a starting point for accepting theological, experiential, and practical differences, rather than attempting to make all gods "one size fitting the All."
"That the gods are real" means that the gods are not archetypes. We are not playing mind games. No one is making stuff up. This second part of the definition is important. No one wants to feel like their experience is being written off as one's imagination, at best, or at worst, as mental illness. (Though, yes both of things can be at play – and not just for polytheists!)
Polytheism may indicate similarities in theological outlook, but leaves room for the multiplicity of human culture, practice, and experience.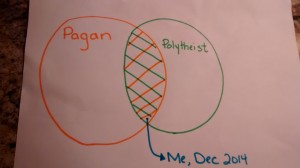 What I like about this word is that it is not necessarily incompatible with being Pagan. Plenty of Pagans are polytheist, but not all. Yet, polytheism can include those who do not consider themselves Pagan. I like that I can engage with Shinto, Hindus, and others who don't identify with Paganism or the predominantly North American or European expression of Paganism. Some of them might; most of them don't, but we can talk about things in polytheist terms.
Any label should be descriptive and not prescriptive. I recognize that many, if not most, labels are fluid and not necessarily meant as a permanent identity or dogma. For me, polytheist is one descriptor among several. I don't grip too tightly to this word. I recognize that my experience with the gods might change over time, that my practices may shift. Right now, my Hindu practices make more sense in a polytheist frame.
While I actually prefer, intellectually, a monist theology, in the last few years I have been trying to step away from intellectual theologies and focus more on what my lived experience tells me. Right now, it situates me in the polytheist portion of the Pagan venn diagram (which is, of course, incomplete, as both sides contain many more overlapping and intersecting identities).