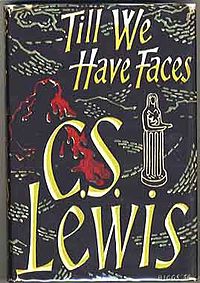 Till We Have Faces by C.S. Lewis has long been one of my favorite novels. It's a relatively little known book; his apologetics, allegories, and Chronicles of Narnia series are all much more well known and adored.
Lewis is problematic in many regards. He is a product of his time and place: born in Belfast in 1898, raised in the general Christiandom of the times, served in World War I, was white and male and learned, entering the "ivory tower" of Oxford as a student and then as a lecturer. His tone, as well as his racism, sexism, and elitism, reflect his life and times. His Christian superiority can also be infuriating.
And yet, for all that, he is a beautiful, poetic, and brilliant writer. I have read 28 of his books, more than I've read of any other author! Of them all, Till We Have Faces remains my favorite. It was a favorite when I was a Christian and, upon a recent reading, my first in over a decade, it remains so as a polytheist.
Till We Have Faces is a retelling of the story of Psyche and Cupid told from the point of view of one of Psyche's sisters. The book is bleak, written in plain prose that matches the rocks and "dark ages" feel of the setting. But beside the elegance of the writing and cleverness of the story, what makes this book so good?
Lewis grasps the depths of mysticism. His understanding of the longing for holiness, of that silent weeping that so many of our hearts bear for a hope and a love that lies just beyond our grasping, his ability to render whole and vivid such a complex woman as Orual, making an old story fresh again…… He is a wonder. If you have ever found Lewis' writing trite or overbearing, or have been put off by the Old White Man voice, give this book a try. I think you will be pleasantly surprised.
This book is for mystics, of any stripe. Christian or polytheist, all will find something of themselves in this story. The visions at the end of the book are moving. I might be a sleep deprived mama, but I think I the human hopes and fears imagined at the end, would provoke tears in even the most well-slept of readers.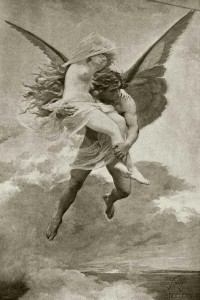 The rest of this review are two passages from the book and my thoughts about them. Let us begin.
The nearest thing we have to a defence [sic] against them (but there is no real defence) is to be wide awake and sober and hard at work, to hear no music, never to look at earth or sky, and (above all), to love no one.
Orual, Psyche's eldest sister, our protagonist, believes, more or less, in the gods, but she will have nothing to do with them. The entire book is her claim and defense against them. Her life is spent doing exactly what she says keeps the gods at bay. This line speaks so truly to me. Where do we touch that which is greater than ourselves? In earth and sky (and water), in music (and arts), in dreams, in love, in the moments that hover just on the edge of our vision. Our entire world is set up to keep the gods at bay. And Orual makes a strong case that that might be wise…. For the gods are terrible, their reason is not our reason, their reality not quite ours.
But here is what caught my breath and caused tears to well up in my eyes.
I finished my prayers this morning. I was energized and happy, going about my daily business. And then, overwhelmed. Standing at the sink I wondered just how I was supposed to do my Work, to press forward with the tasks of my heart and calling while also tending to the tasks of my life (and many tasks are in both camps). How can I be a householder AND a mystic? I found a moment to whine to a friend and comrade on this path. Afterward, I sat to finish the last chapter of this book. And the chapter begins thus:
The complaint was the answer. To have heard myself making it was to be answered. … When the time comes to you at which you will be forced at last to utter the speech which has lain at the center of your soul for years, which you have, all that time, idiot-like, been saying over and over, you'll not talk about joy of words. I saw well why the gods do not speak openly, nor let us answer. Till that word can be dug out of us, why should they hear the babble that we think we mean? How can they meet us face to face till we have faces?
I am reminded of the passage in 1 Corinthians (13:12). "For now we see through a glass, darkly; but then face to face: now I know in part; but then shall I know even as also I am known." We cannot Know, but we press on to the best of our abilities. The gods do not ask that we Know, we cannot know the outcome or even the Why nor How, but demand that we listen to that still, small voice within ourselves, to the gods, and that we press on. Perhaps some day I will Know my Self and on that day I will see the gods more clearly. Perhaps some day I will Know that Word in my soul that longs to be sung, and then I will hear the gods plainly. I can only hope.