Fifteen years ago the internet was a baby. If a person wanted to reach out to other like minded Pagans, Occultists, or feminist spirituality nerds, there were some chat groups and some awful Angel Fire websites. Wikipedia didn't exist. Facebook didn't exist. Perhaps some very tech savvy people were finding outlets for their curiosities and needs. I was not tech savvy. What I found on the internet was generally unhelpful and confusing. Book stores were where I found information.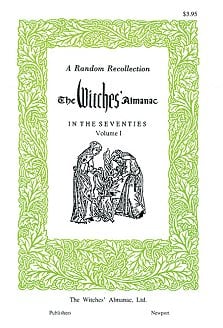 Among the few gems I found was a copy of The Witches Almanac. It had a thick, beige cover with images of Medieval woodcuts on the cover and in the pages. Lots of little mini-articles and horoscope stuff, and lists of organizations to contact. I was taken with the design, as I adore woodcuts. I liked being able to get small doses of arcane information. Much of it didn't make a lot of sense to me then, but it allowed me to slowly build up a vocabulary over time. I can't say I used my copies of the Witches Almanac all that much, but I did keep them for years. I was unwilling to part with them, knowing that I might find the information useful and relevant later.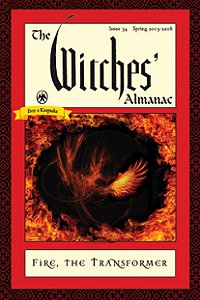 I had forgotten about this publication until earlier this winter when a list of books was sent out for Patheos Pagan reviews. I chose to take another look at this publication.
Long gone are the card-stock covers. Now, the Almanac is adorned with a glossy, full-color cover. Instead of a stapled booklet, it is a full fledged book. But that is the only change I can see! Inside contains all the wood block prints, black and white drawings, articles, and horoscope stuff that I hoped to see!
The Almanac goes from spring to spring. This edition (Issue 34) runs from Spring 2015-2016. The theme is "Fire, the Transformer," thoguh I can't see a strong thematic current in the book. Much of the information remains arcane and well, not really my cup of tea, now that I do know what is being talked about. However, that doesn't bother me, and I still intend to keep this on my shelf for years to come. Why?
Because there is a host of things to come back to. Someday I may want a quick note on Cardinals or to learn something about South East Asian
sak yan
tattoos. I definitely want access to the calendars. I've even made notes in one of the sections on tarot. Most importantly, I think of my son, an avid reader and aspiring element bender, and how great these books would have been for me in junior high and high school. What a delight to have something like this laying around to inform, intrigue, and inspire me (and my children).
There are some great articles in here. I particularly like the piece on "The Old Religion." There's a reflection on botanicas from a Latino perspective. I learned about the Buddhist approach to the vajra/dorje. I most definitely appreciated that I didn't recognize the name of a single author. As I am now immersed in Pagan publishing, I seem to come across many of the same names, and it's great to be reading other voices.
I think the Almanac is most definitely worth your time. It would make a great gift to an aspiring witch/Pagan/occultist of any age, or a student of religions or folklore. I am glad I revisited this series. For $12.95 I think this book is a steal. To order or learn more, you can click here.