[This is something I wrote ten years ago, fresh out of graduate school. I still like it, and hope you do too.]
Luke 1:26-38 (NIV)
Today is the Annunciation, the day that the angel Gabriel appeared to Mary and announced that she would be with child, that his name was to be Jesus, and he would be the Son of God. In many ways, this story can be seen as just another hokey tale made up by late-to-the-gospel-game Luke. Perhaps like Dan Brown, Luke was inspired by a previous story and needed to spice up the details so as to avoid possible plagiarism lawsuits.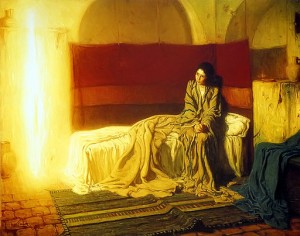 This story can also be seen as a patriarchal takeover of a woman's body. In some feminist circles this is the most obvious way to interpret this story. A male god decides to reproduce, picks a young virgin, and impregnates her without her consent. Divine Rape, one might say. Seen in this light the Annunciation is another example Christianity's disdain for women. Mary's unimportance is supported by the lack of any mention of her in the other gospels, with the relatively minor exceptions of her presence at the wedding at Cana and at the crucifixion proving the point.
I have come to see this story differently. I think this is one story in which early Christianity's positive views on women remain in the Christian heritage. Christianity is not known for its feminist agenda, and while many great spiritual men have exhorted Christians to peace or reminded us of God's preferential option for the poor, in its early days Christianity had a revolutionary new way of treating women. Women were to be treated with all respect and not as property, which was the common practice of the day (and not much has changed, I hate to say). They were given religious freedoms unheard of in the pagan or Jewish traditions of the time. Much of this power was left out or deliberately stripped away as Christianity became codified in the early centuries. But there is no denying that hints remain in the New Testament; women are seen sharing in ministry: as deaconesses, as prophets, as apostles.
The story of the Annunciation is one of these passages that hint to us of early Christianity's respect for women; it gives us a glimpse of how God interacts in the world, and it provides us with another lens with which to interpret Lent and our lead in to Easter.
While Luke never mentions her age, Mary would have been anywhere from 12 to 15 years of age. She was a virgin, betrothed to Joseph. In some unexpected moment she was found alone – not accompanied by a gaggle of girls or chaperoned by a male family member. In this moment God spoke to Mary through the angel. Like all smart women, she was suspicious of this unfamiliar character.
28The angel went to her and said, "Greetings, you who are highly favored! The Lord is with you." 29Mary was greatly troubled at his words and wondered what kind of greeting this might be. 30But the angel said to her, "Do not be afraid, Mary, you have found favor with God. 31You will be with child and give birth to a son, and you are to give him the name Jesus. 32He will be great and will be called the Son of the Most High. The Lord God will give him the throne of his father David, 33and he will reign over the house of Jacob forever; his kingdom will never end."
This interaction is interesting for a couple of reasons. First, there is the audacity of God to spring this on such a young woman! "Hey, guess what! You're pregnant!" Secondly, there is the amazing fact that God did not speak with her father, her brothers, or Joseph – all the men that in this age can lay claim to her. He went directly to Mary. She was an autonomous being; she was approached as a person of worth.
Mary, however, remained skeptical. 34″How will this be," Mary asked the angel, "since I am a virgin?" Mary questioned God. She didn't run away frightened, she didn't instantaneously acquiesce. She questioned, and in return Gabriel answered her; she was not smote for unbelief or heresy.
35The angel answered, "The Holy Spirit will come upon you, and the power of the Most High will overshadow you. So the holy one to be born will be called the Son of God. 36Even Elizabeth your relative is going to have a child in her old age, and she who was said to be barren is in her sixth month. 37For nothing is impossible with God."
At any point Mary could have run away, or even have said no. God was telling her what was to be, but she could have walked away. Instead, she looked at the mystery of God and accepted: 38″I am the Lord's servant," Mary answered. "May it be to me as you have said."
This to me is an example of faith and strength, though not a flashy faith, nor the kind of strength that leaps tall buildings in a single bound. Rather it is an example of what is required in those quiet moments when we have to look at mystery head on and make a choice. Mary could not have fully understood what the consequences of this acceptance were going to be, but she chose anyway. No one made the choice for her. She didn't run home to ask her parents' permission, nor her best friends' opinions. She made a choice for herself. God spoke, she questioned, she listened, she chose. She could have said no. Maybe God approached one or two other women before Mary and they said no. We have no idea, but we know about Mary because she said yes.
Because of this choosing, new life sprouted where there shouldn't have been life. A virgin pregnant is rationally absurd. But with God all things are possible! Through Mary's choosing, in her yes to God, she allowed something new to grow within her. For this reason this story is a perfect holyday to celebrate in the midst of Lent. We are in the full flush of spring. The rains are nourishing the plants; the sun is restoring the earth and all that dwells in it. Celebrating Lent we are making way for the new growth in our lives, symbolized by Easter and the resurrection of Life. In the meantime, we may have to make a choice, or many choices. Do we say yes to this new growth, whatever it may be? Can we question the choices placed before us with the confidence that we are beloved by God and that there is no wrong answer? Mary's example to us on this day is not one of meek obedience, simply cowed before an authoritarian god. Her example is one of faith and strength, present even in that which is considered weak. We are all called to meet God, to interact with God, and to participate in the life-giving activity of God.
Let us go forward in faith and embrace whatever new life is growing in us this season.
Amen.