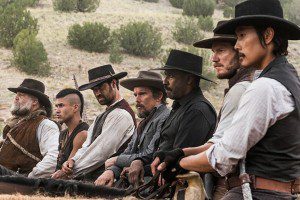 "Scripture quotin' and axe totin'" seems to be the best description for Jack Horne (Vincent D'Onofrio), one of the colorful characters in director Antoine Fuqua's adaptation of the classic western, The Magnificent Seven (Metro-Goldwyn-Mayer Pictures and Columbia Pictures). With the town of Rose Creek under the deadly control of industrialist Bartholomew Bogue (Peter Sarsgaard), the desperate townspeople, employ protection from seven outlaws, bounty hunters, gamblers and hired guns, Sam Chisolm (Denzel Washington), Josh Farraday (Chris Pratt), Goodnight Robicheaux (Ethan Hawke), Horne, Billy Rocks (Byung-Hun Lee), Vasquez (Manuel Garcia-Rulfo), and Red Harvest (Martin Sensmeier). As they prepare the town for the violent showdown that they know is coming, these seven mercenaries find themselves fighting for more than money.
Throughout its history, the western film genre has always included rich and complex themes around faith, spirituality, and theology, and this new version of The Magnificent Seven is no exception. Set against the backdrop of the violent, wild west, preachers, missionaries, and other religious characters have preached the gospel, colluded with the enemy, or embraced an eye-for-an-eye worldview that left the whole community blind.
In this upcoming entry into the genre, we have Jack Horne, a man that embodies a dual nature of victim and violator. After having lost what little he has to thieves, he undertakes a violent revenge that is simultaneously fueled by a fevered faith. In the process, he lives out the tensions that plague us all, the battles between forgiveness and revenge, peace and violence, and devotion and neglect.
Patheos is pleased to provide its readers an exclusive, sneak peek into the dynamic character of Jack Horne. Be sure to see how he (and the rest of the Magnificent Seven) settle the score when The Magnificent Seven releases on September 23rd.