Everyone knows the story of A Christmas Carol. It's been read by generations and dramatized in ways both straightforward and not so straightforward. (Scrooged comes to mind.) The Man Who Invented Christmas, which opens nationwide for Thanksgiving, is a holiday classic in the making that takes us on a full-speed-ahead journey from the point when Charles Dickens decides to write a new book to the publication of A Christmas Carol.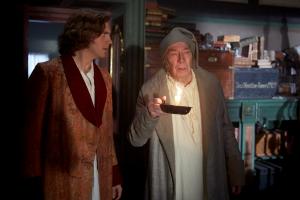 While never retelling the classic story in full, The Man Who Invented Christmas conveys its message and themes through the life of Dickens himself, played with joy and depth by Dan Stevens (Downton Abbey, Beauty and the Beast, Legion). And just for fun, we spend time with a cast of characters from the original as they inhabit Dickens' study while he works out the story in his mind. Most notable, of course, is Ebenezer Scrooge, who as played by Christopher Plummer (Beginners, The Man Who Would Be King, The Imaginarium of Doctor Parnassus) is good for both inspiration and comedy, and, frankly, is likable. Other Carol characters include Dickens veterans Miriam Margolyes and Simon Callow. The delightful Anna Murphy does double duty as Dickens' housemaid muse Tara and the Ghost of Christmas Past.
On this ride, we travel through Dickens' epiphany that his new book will be a Christmas ghost story, his publisher's decided lack of enthusiasm for same, and his struggles to get it done in time for the holiday, all while navigating his own family and personal troubles. The Man Who Invented Christmas is a joyful, uplifting and moving creative retelling—but not—of A Christmas Carol. While being undeniably modern and layered, it eschews the ironic distance and ugliness of Scrooged, and the CGI special effects of action movies. It acknowledges darkness but gives us plenty of light. Fans of biography as well as history and religious tradition will be fascinated by the details of Charles Dickens' professional and personal life, the story of how this book—one of the most successful of all time—came to be made (and almost wasn't), and of its impact on the celebration of Christmas.
The movie is based on the 2008 nonfiction book, The Man Who Invented Christmas: How Charles Dickens's A Christmas Carol Rescued His Career and Revived Our Holiday Spirits by Les Standiford, which recount the events of the story. Dickens' publisher is unenthusiastic about his new idea in part because Christmas has long fallen out of favor in England. Much of its ritual has been shunned as too Catholic, and it seems like there's just not a lot to be thankful for, with a string of brutal winters, and the crushing poverty so many live under. But things are starting to change. The Oxford Movement is recovering Catholic traditions in the Anglican Church, Christmas carols are becoming popular, and through Queen Victoria and her German-born husband, Prince Albert, some customs, such as decorating a tannenbaum (fir tree in German) with lights, tinsel, fruit and ornaments, are being embraced by the middle classes as they emulate the royals. Into this moment walks Charles Dickens with the idea of telling a Christmas story that's not about the baby Jesus, but rather about universal values that underlie Christianity: peace, kindness to strangers, and family love. As the Dickens phrase is put in the mouth of his father (Jonathan Pryce, Something Wicked This Way Comes, Brazil, Glengarry Glen Ross): "No one is useless in this world who lightens the burdens of another." Susan Coyne (Slings and Arrows) takes this potentially dry or precious historical backstory and biographical material and delivers a screenplay with energy and forward movement that keeps you engaged until the final scene.
Director Bharat Nalluri (Miss Pettigrew Lives for a Day, Life on Mars) hits all the marks, delivering a modern, psychological exploration of the story while never drifting into cynicism or postmodern distance. He has made a family film without being maudlin or simplistic. It respects the story and the audience, and I expect it to be a Christmastime favorite for years to come.
Lightening the Burden Of Another: The Universal Ethics of A Christmas Carol
Heart of stone; heart of flesh—though there is nothing overtly religious in A Christmas Carol or this new movie about its making, this central Christian message is at its core. I'm sure Charles Dickens made the values universal on purpose to some extent. What A Christmas Carol and The Man Who Invented Christmas are both ultimately about is light entering darkness—both broadly in the sense of concern for the poor and suffering entering the consciousness of grim Victorian England, and personally in the stony heart of an bitter man softening and opening up to love for others.
I sat down with director Bharat Nalluri and star Dan Stevens to talk a little about the film, and about what Charles Dickens accomplished with A Christmas Carol, and to some extent, with all his work. I asked them about the absence of specific religious references.
Nalluri: There's no getting away from the fact that Charles Dickens was a Christian. I think some of his moral values were instilled from that. But the genius of Dickens and the reason his books are translated across the world in many languages and many cultures and are very effecting, is at the end of it all, it's universal human truths, really—it's how we should all be, and how we should all work together as a society. He gets to the bottom of that.
Stevens: I don't think it's an areligious tale. I just think he taps into something that is both Christian and also universal. There's something about the celebration in the winter solstice that appealed to the Christian Fathers as much as Dickens—that in that very darkest moment the light will return.
We talked about what they wanted to accomplish besides simply a celebration of A Christmas Carol and Dickens.
Nalluri: A phrase we use in the film—Dickens says, "No person is useless who lightens the burden of another," and really that's at the heart of pretty much everything Dickens has done, and in a way that's what A Christmas Carol is as well. For me, I hope we captured an element of that. Look, it's a joyous fun piece, and it's a really enjoyable piece—and that's what Dickens did, he is a populist, he would try and make you enjoy it without you realizing that he had some other thing to say about us all as human beings. And look, if you get that, that's great; if it makes you go to a library and get a Charles Dickens book out and read it—just one person—I'm done.
In addition to "lightening the burden of others" and humanistic ethical principles, there's also a big theme of redemption, of someone not actually having to confront their karma, but transforming themselves and just walking forward as a good person. The key moment in A Christmas Carol is the this transformation of Ebenezer Scrooge. No one asks him to atone. No one refuses to accept the new good Scrooge; they simply welcome him.
"It's a very human story of redemption," says Nalluri. "We all want to be better people than we are. It's kind of a psychotherapist's journey; he goes back and he looks at himself and all the bits that made him." And yet, despite this Christmas message, are we any better than we were in 1843?
Nalluri: It is a sad thing that we're still talking about the dichotomies in the world—the haves and the have-nots—it's the best of times; it's the worst of times. All his work is about that. Genuinely, human beings are good, I think. We're driven to goodness. That's how we all survive together as a society. And I think—maybe I'm being too optimistic—it's just every now and then it can feel a little bleak out there, but I think that's the genius of Dickens; he keeps reminding you of the goodness that is possible.
Stevens: You can really climb onto that hope—hope that those human values will prevail.