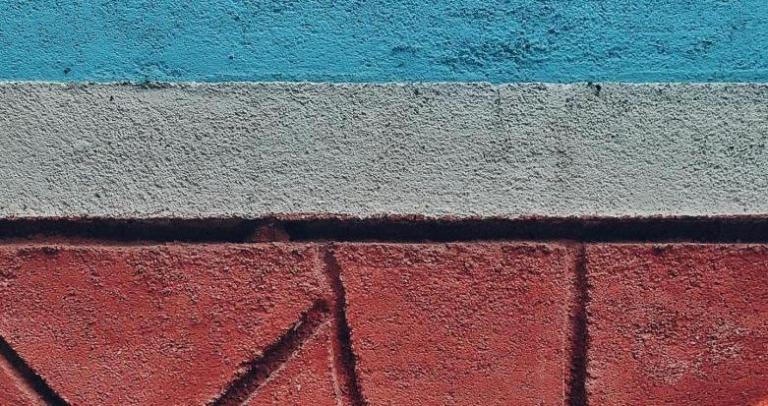 During February, I'll be exploring my own story with Progressive Christianity, with religion, and with my constantly evolving spirituality. It is a story from the gymnasium to the sanctuary, beyond the walls of institutionalized religion (and sometimes back again), always falling deeper into my own experience and relationship with the Divine. If you'd like to read it in order, you'll find them on the blog's home page.
Although my father had not been born into a particularly religious family, he was heavily impacted by fundamentalism in his late teens. Its structures, rules, and clear guidelines for how to live gave him a form of certainty in the midst of what was a turbulent childhood and young adulthood. 
In many ways, it was a saving force in his life, interrupting the existing narratives he had that pushed him toward substance abuse and a 1.8 grade point average in high school. He enrolled in community college with a sense of purpose and graduated from a four year university, becoming the only one of his siblings to do so. Somewhere in there, his theology shifted as well, moving from fundamentalism toward a more progressive form of Christianity.
My mother, on the other hand, grew up in fairly mainline churches bouncing between the local United Methodist and Presbyterian communities. Her family moved from Montana to Washington when she was young, carrying with them the values of teetotaling and hard work.
Born the first of three children, she was also the first to go to college, moving 400 miles away to attend her freshman year at one of the state universities. When her mom developed breast cancer and it began to worsen, she returned home to a local Christian college where she could be nearby in her mom's last months, weeks, and days.
Inoculated From Fundamentalism
In order to understand my story, understanding that of my parents' is crucial. Their experiences of God, of changing theologies, and of turbulence and loss shaped the many ways they exposed me to religion and faith. Because of their life experiences, I grew up firmly as a progressive Christian.
My dad says I was raised in a way he hoped would "inoculate me from fundamentalism."
According to my mom: "We just spent lots of time making sure you knew you were loved."
I grew up surrounded by Christianity, from the picture books in the house to the conversation at the dinner table. My dad had become a pastor, so our house was frequently visited by groups of churchgoers talking about faith, God, justice, and the Bible.
One of my favorite books when I was a toddler was The Children's Illustrated Bible, filled with maps and pictures depicting the various Bible stories. In it were awesome pictures of lions and violence and seemingly magical instances, exactly the kind of stuff I was excited by at such a young age.
(To this day, I credit this book with most of my working knowledge of biblical stories – although I have since filled in quite a bit with my own studies.)
And at dinner, we would sing prayer songs before every meal:
Ohhhhhh, the Lord's been good to me and so I thank the Lord,
For giving me the things I need: the sun and the rain and the appleseed,
The Lord's been good to me. Amen.
In other words, I was raised "breathing Christianity." It was the water I swam in, barely turning a corner without it influencing my day-to-day life. Even some of my experiences with video games would have a religious component to them.
The Basis of My Coming Deconstruction
My parents tried their best to give Mystery a chance to breathe in my life. We approached Bible stories with humor, listening for their lessons, but being quick to recognize the ridiculousness in many of them. And similarly, prayer was something to be done at the dinner table and in church, but I don't remember ever being forced to pray otherwise.
As I look back, I honor that my parents were trying to help me develop my critical thinking and reasoning skills and apply them to these texts and practices, to see them as guides rather than rules and demands.
But as a young child, before critical thinking skills were developed much in the first place, I just didn't have a lot to attach these experiences to other than literalism. What I saw and heard became reality for me.
The Bible became fact.

Prayer became a transaction.

God became a male king.
I couldn't fully separate fact from myth, what was figuratively true from what was literally true. The saying that my dad would later share frequently, "all stories are true and some have actually happened," was nonsense to me. I remember the first time I heard it: I just scratched my head with confusion.
Unbeknownst to my family, this was the foundation that would begin to crumble by the time I hit high school. 
Is There a Better Way?
I see this story playing out again and again in progressive churches today. Bible stories are often presented to young people alongside a rational critique using critical thinking skills the young person simply isn't yet equipped with. And this isn't a matter of "well this is a good time to practice" – young children don't develop critical thinking skills of this manner until the ages of 5-9. Attempting to portray biblical stories as metaphor or allegory to three year olds is simply developmentally inappropriate.
Richard Rohr once said the Bible was "dangerous" if given to someone without a firm grasp on philosophy.
I wonder what lessons progressive Christians can take from this, both institutionally within the church and as parents and grandparents beyond the church walls. What if the Bible wasn't introduced to a young person until they were in kindergarten, at the earliest? What if, instead, we focused on doing what my mom tried to do: just show kids that they're loved and in a safe, affirming community?
I wonder if the beginnings were different, we would see more young progressive Christians stick around instead of deconstructing their way out of religion.