What do we do with death? 
How do we process it, understand it, prepare for it, and sit in its presence? How do we learn from it and allow ourselves to be transformed by it? How do we learn to befriend it?
Below is an interview with Kelsey Kappauf, one of my closest spiritual companions and a modern day death doula – if you don't know what that is yet, don't worry! You're about to find out!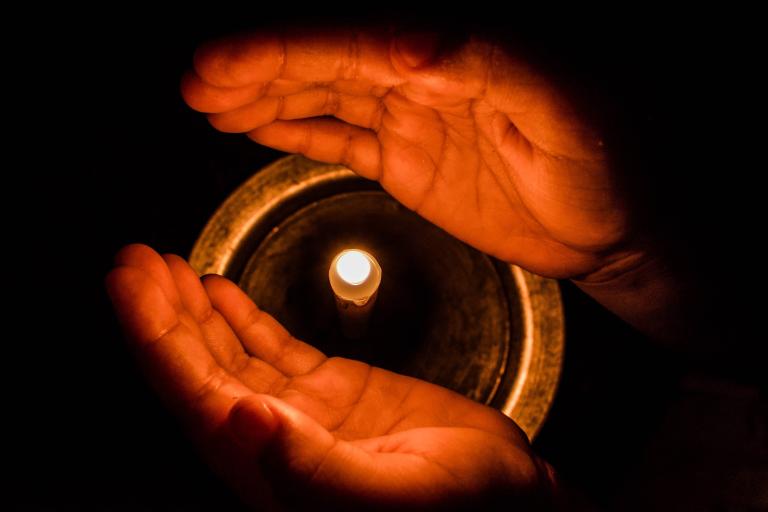 Andrew: Kelsey, I'm so happy you're willing to share with us about who you are and what you do. So, let's start with the big one: what is a death doula and why is that role important in the end of life process?
Kelsey: A death doula is someone who seeks to honor the sacred nature of death by inviting individuals and communities to befriend the death process.  
Most death doulas specialize in caring for those who find themselves knowingly approaching the end of their physical life. This is done through educating individuals on their options, honoring their lives through ritual, supporting family members, holding vigils after death, and empowering families to care for their own. A death doula's role is to support families through this sacred process by helping them step into the journey with loving awareness. 
Many death doulas also support those who are not knowingly approaching death, but who are interested in learning about what it means to befriend death before they die. Sadhguru says, "Unless you embrace death, you cannot live, if you try to avoid death, all that will happen to you is that you will end up avoiding life." This end of life coaching process invites individuals to take intentional steps towards preparing for their death, and in doing so, enter into their lives more consciously.
Andrew: You mentioned "befriending death," which is a pretty huge shift for most of us who have been taught to run the other way. Can you explain that more? How do we do that?
Kelsey: When I talk with people about reframing how we view death, I think of it as an invitation for people to get curious about what their current frameworks around death are. It's less about creating a specific framework for people to live out of, and more about inviting people on a journey that non-judgmentally examines their thoughts, feelings and experiences of death. I like to call this process of approaching death with curiosity: befriending death. 
That being said, American culture is primarily "death denying," and as a result many of us end up having avoidant relationships with death, and are never given language or tools to help us navigate death's presence in our lives. 
This mindset that avoids the realities of death and often labels death as "the enemy," "morbid," and "dark," can keep us from exploring our relationship with death, and talking about it in our communities. Part of this shift that then naturally happens when we learn to befriend death is that the dualistic categories we have death in start to fade. 
For example, I was walking with a woman who felt conflicted by some emotions she was experiencing after her mother's death. It had been what she described as, "the worst experience of her life," yet the weeks leading to her mothers death held some of the most precious and tender moments of her life. 
In the midst of the deep confusion death can often bring, it also has this wild capacity to awaken our hearts with love, and to expand our mind's awareness, reminding us of what truly matters. 
This does not belittle the horrors and pains that often accompany death, but when we befriend death we often find that there is more to the story. 
Andrew: That story reminds me of a phrase I use, probably too often: "we find meaning in the midst of the muck of life." It's in the midst of the muck – the hard, rough, often unwanted spaces – that we so often experience deeply meaning-filled, life-altering moments.
How did you come into this work? It seems like a difficult path to choose to walk into and such a gracious gift to offer folks who are exploring death in their own lives.
Kelsey: In many ways I feel like this work came to me. 
My father was diagnosed with stage 4 lung cancer two years ago, and we had six months with him until his body transitioned out of his physical form. 
At the beginning of his diagnosis, I laid in his hospital bed clinging to him with all of my heart and body; I can still feel my tight grip around his arm. I was terrified. Death was the enemy, and I would do everything in my power to stop it. 
We created all sorts of plans with the hopes of saving him, but as the weeks unfolded and our plan was not making him any better, we started to recognize our powerlessness to change what was unfolding. We realized that focusing on trying to change what was happening was keeping us from being present to what was. 
We started to imperfectly welcome the idea of my father's death, still doing what we could, but letting go of our expectations. This made way for our family to start to befriend death by no longer ignoring it, but openly and vulnerability talking about it. We shared our fears, our hopes, our gratitude, our pains and we supported my dad as he took steps to prepare for death to come. 
He wanted to write letters to loved ones so I would help him by typing them out. As he shared his letter for my kids my eyes filled with tears as I sat there brokenhearted. My dad looked over at me in that moment with kind eyes and said, "There is beauty in your pain, let it awaken your being." 
I think his quote sums up why I felt invited into this work. Death can bring about some of the most overwhelming and painful moments of our lives, but I believe if we open to its lessons, it can also awaken us to the undeniable preciousness of this life.
Andrew: Watching from afar how you've navigated this space has been so powerful – the tenderness you've carried, the love you've shared…I'm just so thankful for who you are and the energy you carry. You've modeled for me so beautifully how to walk in this kind of valley and be fully present to it. 
You and I are both alumni of the Center for Action and Contemplation's Living School and we've shared a lot over the years: we were together the week following your father's diagnosis, we've talked about our evolving and changing spiritualities, and we've really given witness to the different paths we've taken to become who we are today. 
While you come from a more evangelical background and I come from a more mainline progressive background, we both now find ourselves exploring this mysterious contemplative/perennial wisdom space. At this point in your life, especially with your work as a death doula but also beyond that, what does an embodied spirituality mean to you?
Kelsey: Oh I love this question!
At this point in my life, I would say that I experience embodied spirituality as a way of being that is centered in love, excludes nothing and no-one, welcomes life as it comes, and doesn't take itself too seriously. 
Years ago when I started to question the spiritual framework I grew up in, I found myself asking: what is real? 
I kept coming back to love. 
In midst all of my questions, my shifting beliefs, and my fumbling into the unknown, the thing I felt grounded in was love. This love became my through thread, my spiritual home. 
When I am attuned to this love, which is definitely not all of the time, I am awakened to a way of being in the world that excludes nothing and no one. There is this deep recognition that every one of us are beautifully and mysteriously connected, and our unique differences are something to honor, not try and change. This spirituality that is centered in love also welcomes life as it unfolds, reminding me to breathe in the present moment for what it is, often mess and all. 
Lastly, for me, embodied spirituality doesn't have anything to prove, thus it doesn't take itself too seriously. For example, I just shared my opinions about what I believe embodied spirituality is to me, but I also try to hold my opinions with a lightness that stays open and doesn't cling too tightly to what I think I know. I mean, who knows how I would answer this question in ten years! Life is full of mystery. 
Andrew: Life is full of mystery! Kelsey – thank you so, so much for sharing a bit of your story with us. If someone wants to learn more about you and support your work, where can they find you?
Kelsey: If anyone is interested in learning more, or getting in touch, they can check out my website at www.contemplativedying.com. I'm looking forward to chatting with anyone curious about this work.