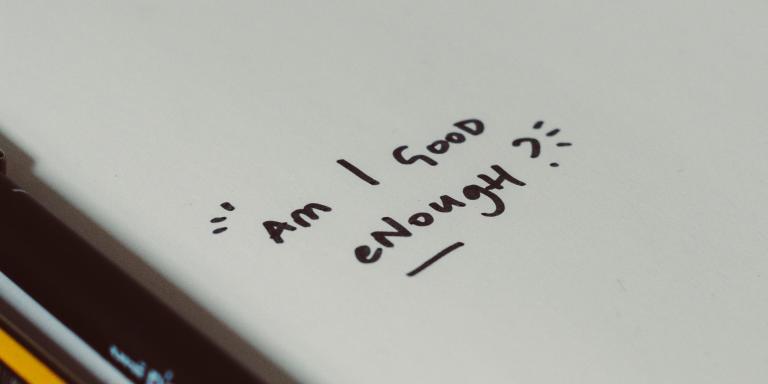 I sat in the room looking back and forth between my color-coded spreadsheet and my whiteboard leaning up against the wall. On the spreadsheet were dates, phases, plans, contacts, steps, and to-dos. Scrawled across the whiteboard were the big-picture elements: mission, vision, purpose, needs, desires, dreams.
It was my latest idea, the way I would make an impact in the world: a physical space where art, mindfulness, and activism would come together, workshops being taught by some of the area's greatest teachers and leaders. (Something like The Hive in Cincinnati, which I highly recommend.)
"It's not good enough," I whispered to myself before closing the laptop and sauntering slowly off to the kitchen, the whiteboard abandoned for another day (which turned into another week, another month, and then altogether left behind as another could-be project.)
The question of 'good enough'
That moment was indicative of many others I've had in my life when my creative vision shined bright before, faced with the inner narratives I carry, burning out fast. Ultimately, the vision of such a space wasn't mine to do in that moment, but the bigger invitation it offered me was of examining that simple phrase: "it's not good enough."
What did I mean by it?

What fears laid underneath it?

How did that simple phrase serve to protect me, to give me cover, so that I didn't need to try?
After it reared its head enough times, I began to realize the phrase "it's not good enough" wasn't my real problem; my issue was that I believed I wasn't good enough.
An Invitation from Mary Oliver
If any of this feels familiar, resonant, or intimate to your own life story, I invite you to sit with the poem "Wild Geese" from Mary Oliver. Actually – whoever you are and whatever your inner narratives, I invite you to pause, breathe, and reflect on these words in your own life:
"You do not have to be good.

You do not have to walk on your knees

for a hundred miles through the desert repenting.

You only have to let the soft animal of your body

love what it loves.

 

Tell me about despair, yours, and I will tell you mine.

Meanwhile the world goes on.

Meanwhile the sun and the clear pebbles of the rain

are moving across the landscapes,

over the prairies and the deep trees,

the mountains and the rivers.

Meanwhile the wild geese, high in the clean blue air,

are heading home again.

 

Whoever you are, no matter how lonely,

the world offers itself to your imagination,

calls to you like the wild geese, harsh and exciting —

over and over announcing your place

in the family of things."
Within Mary Oliver's words lives about a million little invitations; perhaps you have found yourself captivated by a word or phrase and thus caught up in one already. But if not, here are a few questions to sit with and use to gently examine your inner life. If you have any insights or desire to share, feel free to leave your story in the comments below.
How have you walked "on your knees for a hundred miles through the desert repenting" in your life? Who taught you to do this?
In what moments of your life have you "let the soft animal of your body love what it loves"? What did that feel like in your body?
What does it mean for you emotionally, physically, and/or spiritually to belong further into "the family of things?
On May 19th, you are invited to join me for my next journaling event, this time being guided by the poetry of Mary Oliver. You can find more information on signing up here!