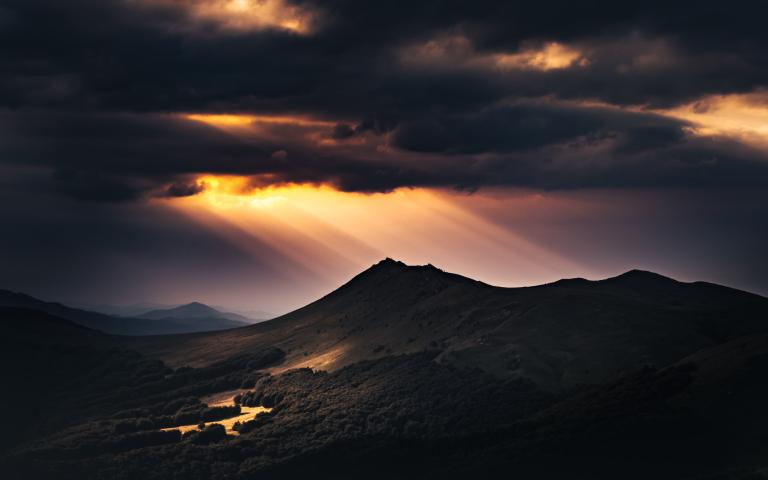 The reason, it seems to me, the mystics are rarely spoken of in church settings is that they are a threat. The words of the mystics and the prophets inspire action, they offer alternative ideas, and they challenge the doctrines and the dogmas of the certain-minded.
They invite us to question what certainty even is.
In most churches I have spent time in, the divine figure most often presented has been a white man in the sky, caring for some of us and angry toward many of us. This whitemalegod, as Christena Cleveland labels him, is the godhead; he is the figure that towers over our theologies and our rituals.
We call him Lord and we speak of his Kingdom, his power, and his glory; his reign, his dominion, and the ways he instructs us to behave.
But as so many of us walk away from such a divine image, recognizing its origins in feudal-like, patriarchal systems, wisdom teachers present us with another image.
The Divine in All Things
Hildegard of Bingen once wrote, "Holy Spirit, you are the mighty way in which everything that is in the heavens, on the earth, and under the earth, is penetrated with connectedness, is penetrated with relatedness."
This is an image of divinity that is not powerful in its dominion but in its presence with us at all times. For Hildegard, God's power came not from having an almighty fist of vengeance, but from its capacity to be with us (all of us) in intimate and consistent ways. She would later write that God hugs us – that we are encircled by the mystery of this truth. 
Hildegard is not praying to a whitemalegod, but to an eternal presence that is soaking and emerging with the entire universe.
The Language of God
And if God is within all things as Hildegard wrote (for those who need this, remember she is a saint – nothing heretical here!), that means that God must be speaking with us through the day-to-day events of life. Mary Oliver once used the phrase "the very drab" and I rather like that. God speaks with us through the mundanities of life if only we can cultivate the awareness and presence to hear it.
But rather than spend our time looking for signals and signs sent from above, the mystics have another way for us to attune ourselves to God's voice. Rumi writes that "silence is the language of God" and Guigo II says that we can only hear Gods' words "in a deep silence."
If the divine is present in all things, then prayer (the act of entering into conversation with God) is no longer aimed toward a far away place but instead about tapping into the essence of the right here and right now. If God is present with me, right here, right now, then I can sit in the silence, listening, and trusting that I might experience God's closeness.
For Progressive Christians
One of the things I've seen again and again in progressive Christian spaces is that we've changed some of the aesthetics of our image of God, but haven't really challenged our operating systems about who God is.
We have traded "our Father" for "our Creator;" "him" for "she" or "they."
But our songs still have "The Lord" throughout and our image is still largely a Being up and out there. The image of God we give praise to is still an almighty King – but possibly a bit nicer than the Old Testament one.
We are being invited by the mystics, and certainly by the death of our institutions and the justifiable abandonment by those seeking spiritualities of depth, to fundamentally reconstruct our image of the Divine and then change how we commune together. Just changing our words won't work.
As faith communities, we need to have the conversations: what is our communal image of the Divine? And how is our space, our liturgy, our set of rituals – and yes, our language – centering our relationship with the Divine?
---
Free Tool: I've created Wisdom for the Moment to share with you short poems, phrases, and teachings from some of our greatest elders, mystics, and prophets.
Pick up my free resource Wisdom Teachers + Body Practices to Guide Us here.
Get my Quick Guide to Engaging a Contemplative and Embodied Spirituality.