As I wrote about last month, I'm heading out on the Camino de Santiago on pilgrimage for all of September. My dad and I will be walking about 250 miles of the northern route along the coastline before dropping down into Santiago.
And to pay homage to my radical tendencies: I'm bringing zero technology.
No phone

No headphones

No beard trimmer
Just me, my walking gear, and reality.
Disappearing for a Bit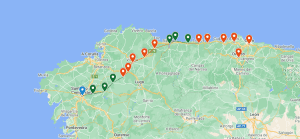 Because of this trip, I've decided to press pause on writing Patheos articles for the month of September. I thought about pre-writing a bunch, but ultimately, I don't think that's healthy for me. With all the other chaos of life, pre-writing eight blog posts didn't rank near the top of to-dos I was willing to engage with.
So, in short: you'll hear from me again on October 3rd when I get back!
If you want to hear first about how the walk goes or about launch details for my forthcoming book, Unmasking the Inner Critic: Lessons for Living and Unconstricted Life, the best way to stay up-to-date is by joining my mailing list. When I get back and when the book launches, you'll hear first about launch giveaways, free content, the Camino, and how Unmasking the Inner Critic can support you best.
If that's not your jam, you can follow me on Instagram or just keep an eye out for my twice-weekly posts to return here on Patheos in October.
As always, thank you all for reading my work and supporting me.