(UPDATE: Unmasking the Inner Critic: Lessons for Living an Unconstricted Life is out now! Grab a copy here.)
I am beyond excited to finally announce the big news here on Patheos: my new book, Unmasking the Inner Critic: Lessons for Living an Unconstricted Life, will be coming out on November 1st!
If you follow me on Instagram or are a part of my newsletter crew, you've been hearing about this for a little bit as I've given progress updates throughout the year. But it's finally getting close to becoming a reality!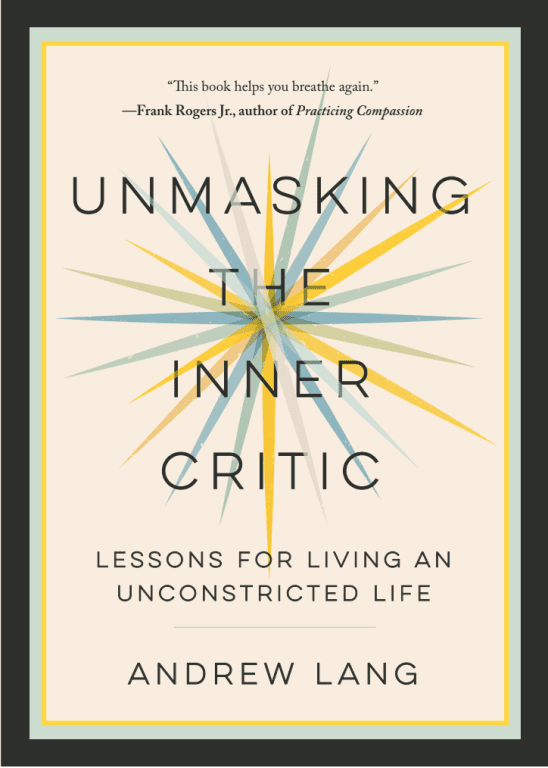 From the back cover:
I'm not good enough. I'm not in control. I don't know who I am.
These constrictions are brutal. But who among us hasn't felt one of these constrictions at some point in their life?
Rooted in the teachings of mystics, saints, poets, and prophets, Unmasking the Inner Critic offers guidance and support for how to move beyond some of our most challenging fears and negative inner narratives.
With an intuitive blend of reflection questions, contemplative practices, action prompts, and his own personal story, Andrew Lang shares the wisdom from secular poets and therapists—as well as from Christianity, Buddhism, and Sufism—that has grounded his workshops for almost a decade.
Discover how to:
do the work of inner excavation with spiritual practices that hold and embolden it,

dig deeper for a more authentic way of living and being who you truly are,

lay aside the masks that keep you from fully experiencing the world,

engage the inner life as the beginning of sustainable activism, and

live a healthier, more confident, and well-grounded life.
Move beyond the inner narratives that hold you back and re-discover the world as deeply interconnected, filled with inherent dignity, and inviting us to embody something new.
Gratitudes, Gratitudes Everywhere
As we get closer to the publish date, I'm absolutely filled with gratitude for everyone who has helped bring this book to fruition.
From the early feedback of beta readers to the whole publishing team at Wise Ink, there have been folks showing up and walking with me through this process. When I first realized this might be a book, I told myself I would go from beginning to end, no matter what.
And before long, it didn't seem that difficult! There were people who believed in me, got excited with me, feedbacked with me, troubleshooted with me, and challenged me to make it better.
I'm so grateful.
Want to stay up-to-date on giveaways and publish details?
The best way to keep in contact with me and this book's journey is by joining my mailing list. When the book launches, you'll hear first about launch giveaways, free content, and how Unmasking the Inner Critic can support you best.
If that's not your jam, you can follow me on Instagram or just keep an eye out for my twice-weekly posts here on Patheos.
As always, thank you all for reading my work and supporting me. You're each a part of my story and I'm honored by this truth.