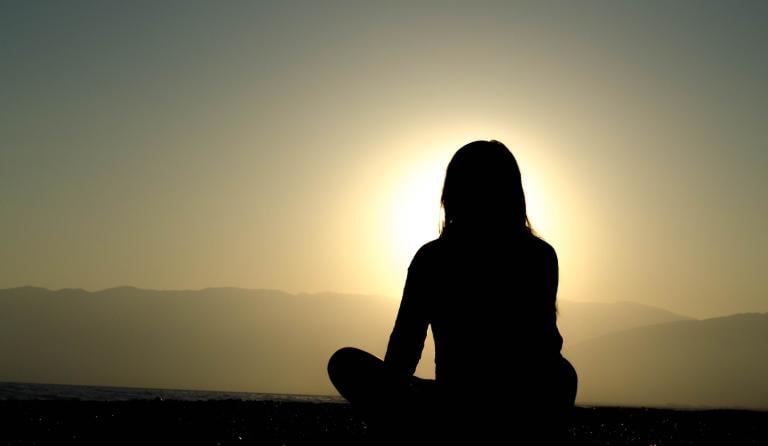 The 2023 Centering Prayer Summit is coming up! Register before December 10th and receive a gift registration for a family member or friend! Learn from some of our deepest of wisdom teachers: Cynthia Bourgeault, Phileena Nikole, Adam Bucko, Carl McColman, and more! Check it out by clicking here.
I remember the first moment it all clicked for me. 
I was sitting in a small chapel, the lights down low, and the soft candlelight flickering against the walls. Along with about twenty friends and community members, we were engaged in meditation – whatever that word meant for each of us.
For me, with no formal training at the time in Centering Prayer or any specific form of meditation, it simply meant witnessing my thoughts. I would bring my posture to a resting position, my awareness to my breath, and simply pay attention to whatever thoughts came wandering through my head.
On this particular night, my thoughts were few and far between (a calming rarity for me). I settled into the quiet and twenty minutes disappeared in what felt like a moment.
But what happened in those twenty minutes was everything.
The Sound of the Genuine
Howard Thurman, a Christian minister, theologian, and mystic, once taught that we each have the "sound of the genuine" emanating up from within us. It's the music our soul sings, beckoning us toward the part of ourselves that holds true importance. It's the song of the Divine within us.
We can hear it, sometimes breaking through the noise of life in the a-ha moments and sometimes only within our quiet spaces, but it is always strumming within us, trying to lead us deeper into the depths of who we truly are. If we're able to pause and listen, we might hear this intimate sound coming up from within us through our intuition, our creativity, and our passion. 
For those of you who are artists, I bet you know this feeling! The sound of the genuine often leads us into "being in the flow," as our bodies, minds, and souls come together to create something beautiful.
Reconnecting with the Divine
It was on this evening, in the small chapel filled with friends, that I first became aware of the sound of the genuine emanating up from within me. It felt like a homecoming, a reconnection with the Divine – God – inside and all around me.
And when I left the chapel and got on the bus to head home, I remember writing a simple phrase in my journal: "it's all beauty."
It might sound hokey – I admit, out of context and all these years later, this experience sounds to me like a blip on the radar. But the experience of it – the feeling of it – had lasting impacts.
Having touched upon something so deep and so real in my life, I began searching for guidance and a framework for helping my meditation practice go deeper.
And I found Centering Prayer, a practice that anyone can stick to.
It has four simple steps that I invite you to try out:
Choose a sacred word as the symbol of your intention to consent to God's presence and action within.
Sitting comfortably and with eyes closed, settle briefly and silently introduce the sacred word as the symbol of your consent to God's presence and action within.
When engaged with your thoughts, return ever-so-gently to the sacred word.

At the end of the prayer period, remain in silence with eyes closed for a couple of minutes.
The act of sitting with intention and in the presence of the the sound of the genuine taught me to listen to the sound of the genuine all around me. And it helped to remind me, even in the midst of the chaos of the world, that there is beauty in everything around us.
It reconnects me with Reality/God/The Divine – whatever you want to call it. The quietness allows me space to breathe, to go to my depths, so that I may walk into the world from a wiser, more centered, more wonder-filled way.
What has your experience with meditation been like?
When have you felt the sound of the genuine emanating up from within you?
2023 Centering Prayer Summit (Special Deal!)
In just over a month, my friend Keith Kristich will be hosting the second annual Centering Prayer Summit. For those of you who are dabbling with meditation or have been meditating for years, this will be a great opportunity to hear from some of our wisest teachers, including my teacher from the Living School, Cynthia Bourgeault. She is amazing! I hope you'll check it out!