A few years ago, I sat in a packed auditorium surrounded by hundreds of others listening intently to a disheveled looking man speaking on the stage. His hair unkempt and his body bent as if permanently in the middle of a grateful bow, he sat on a wooden chair behind a small table with a singing bowl resting atop it.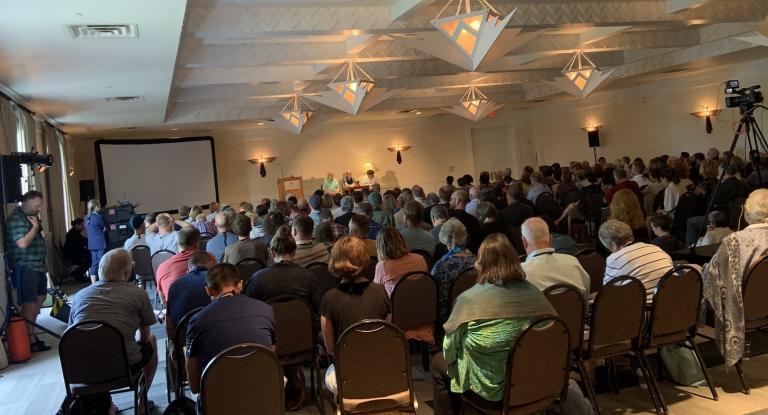 A clinical psychologist and former monk, James Finley speaks with a natural authority given him not just by training but by life experience. He carries not a posture of power or of domination but one of vulnerability and of honoring the moment unfolding around him.
It's a beautiful thing to witness in person.
But one thing you have to know about the man we (his students at the Living School) lovingly refer to as Uncle Jim: he speaks with a poetic cadence that will either lull you into one of the most wondrous slumbers or bring you the closest to enlightenment you've ever felt. 
When I first encountered him, I couldn't stand it. I teetered between sleepiness and frustration, trying to extract wisdom from someone everyone else seemed to love and whom I couldn't understand. 
Voicing my frustrated confusion during a break, a friend gave me the ultimate Rosetta Stone of advice for listening to Uncle Jim: 
"You can't listen to him with rational ears. Sit down with an intention of openness and let his voice take your mind wherever your mind needs to go. Before long, a word or phrase he says will touch upon your unguarded heart and you won't be able to lose attention again."
And so, on that day in the packed auditorium, I sat lightly on my chair ready for either a good nap or a revelation.
Skimming the Surface
As he spoke, his voice fluttered through the air, gently encircling us in a way that only a poet can do. Within minutes, I was entranced as his words offered a vulnerability that I've rarely experienced from older men. He spoke of his own struggles and of abuse, of losing people he had loved and of gaining a sense of connection with the Divine moving through the universe.
There was a time-shifting dynamic to the way he shared these things; these stories were both deeply personal to him and yet invited us into our own. While he spoke, it felt as if time slowed down and my ancestors, both of blood and culture, became present in the room alongside all of us.
Then he muttered a phrase that would change my life: "If you're not careful, you can start to feel you're skimming over the surface of the depths of your own life."
This simple phrase touched upon my heart in a way I had rarely experienced before and I began to weep silent tears.
I thought of all the times I found myself going along to get along: lowering my expectations and ignoring my needs in order to feel a sense of belonging. Or of entering into romantic relationships and shapeshifting to become better in the eyes of those who looked at me. I thought of all the projects I had dreamed up and then laid aside because starting them would mean the potential pain of ending them.
In the midst of this crowded room of strangers, I began to recognize the ways in which I was skimming over the surface of the depths of my own life, constantly working to maintain a sense of composure and authority because the alternative was too terrifying.
As Uncle Jim's voice continued to float through the air, I decided there was something in my depths worth pursuing – not climbing towards, but rather sinking deeply into.
Connecting with the Spiritual in Nature
I find that nature often provides the clearest glimpse of what feels True in the Universe. There is something subtle and beautiful about the landscapes around us that, when attuned to, can invite us into our own interior landscapes.
It is here that my spirituality feels often held and nourished.
Take a moment and imagine a large body of crystal clear water–the kind just calling for you to dip your toes into. The surface takes your breath away and you could stand at its edges all day long. And yet if you look closely, you can see that it is bottomless; it just keeps going down, further and further, until the darkness overcomes your ability to see anything. It is both wondrous and terrifying; who knows what's down there?
If you've ever been to Yellowstone, perhaps think of the beautiful blue color of some of the hot springs, but without the smell and vicious heat.
Imagine that this body of water is inside you, a deep inner spring that you can choose how to engage with. Perhaps you will simply watch the beauty of its surface or get close enough that you can see your own reflection. Or maybe you will sit on the edge and let your legs dangle and move along with its gentle rhythms.
The Inner Spring as Sanctuary
Mirabai Starr speaks of this inner spring as a sanctuary we can enter into:
"There is a secret place. A radiant sanctuary. As real as your own kitchen. More real than that. Constructed of the purest elements. Overflowing with the ten thousand beautiful things. Worlds within worlds. Forests, rivers. Velvet coverlets thrown over featherbeds, fountains bubbling beneath a canopy of stars. Bountiful forests, universal libraries. A wine cellar offering an intoxication so sweet you will never be sober again. A clarity so complete you will never again forget.

This magnificent refuge is inside you. Enter. Shatter the darkness that shrouds the doorway. Step around the poisonous vipers that slither at your ferret, attempting to throw you off your course. Be bold. Be humble. Put away the incense and forget the incantations they taught you. Ask no permission from the authorities. Slip away. Close your eyes and follow your breath to the still place that leads to the invisible path that leads you home." (Starr, Interior Castle, 2)
For some of us, this is simply too much.
Rather than give our attention to the interior landscapes within us, we instead opt to "skim over the surface" as James Finley said on that day in the auditorium. We choose not to search, not to seek, not to examine anything deeper than the obvious right before us. The unknowns that are held within our depths are too terrifying and too challenging to reckon with while living in the midst of a world that feels tenuous enough already.
We prefer a shallow understanding of spiritual formation, one that is mostly external and can be held within a curriculum or book group.
We are afraid that if we slow down and take the time to be with ourselves, fully present to what lies within, we might find something that will dislodge us – destabilize us – from our current sense of who we are; that we might lose grasp on what little certainties we think we have and be forced to really grapple with the stories we tell ourselves about ourselves.
I know this is certainly true for me. As I peer into my inner waters, I question what might be down there. I worry about what kind of terrifying creatures might be swimming in its depths. And above all else, I fear that I might find nothing at all–an illusion of depth that lives in my imagination and dreams.
Spiritual Formation Requires the Discomfort of the Depths
Mystics and poets and prophets from across spiritual traditions and landscapes and time share what this water might mean for us if we are able to give ourselves to the promise of inner depth. They don't hold back and aren't naive or overly sentimental. They know the act of sinking is a treacherous path to choose.
Teresa of Ávila and Mirabai Starr speak of the vipers that will slither along with us.
Rumi speaks of the wounds that we must give witness to.
John of the Cross states simply that we must close our eyes and walk in the dark.
And yet they issue to us a beckoning call, inviting us to fully immerse ourselves in the waters of our inner life. Thomas Merton says it is here where we will come into contact with our True Self; Howard Thurman shares that we might hear the "sound of the genuine" emanating from within us. For these wisdom teachers, the dangers are well worth it because to sink is to become more fully alive to the essence of who we are and the Divine presence within us.
To sink is to become in touch with our own inherent dignity, a wondrously counter cultural act in a society where our worth and wellbeing is so often under attack by systems of power and the power hungry. To sink is to intentionally give ourselves permission to explore our innermost being, to swim within the waters of our heartspace (some might call this soul), trusting that we might touch upon something so beautiful – so true – that we will never see ourselves or the world in the same way again.
---
My new book is now available!

"In Unmasking the Inner Critic, Andrew Lang has created a beautiful and accessible guidebook to help you do the inner work central to the act of being human."
—Brian D. McLaren, author, activist, and teacher with the Center for Action and Contemplation
Rooted in the teachings of mystics, saints, poets, and prophets, Unmasking the Inner Critic: Lessons for Living an Unconstricted Life offers guidance and support for how to move beyond some of our most challenging fears and negative inner narratives.
With an intuitive blend of reflection questions, contemplative practices, action prompts, and his own personal story, Andrew Lang shares the wisdom from secular poets and therapists—as well as from Christianity, Buddhism, and Sufism—that has grounded his workshops for almost a decade.
The perfect book for progressive Christians, secular seekers, and those who are deconstructing Christianity, Unmasking the Inner Critic helps us expand our spirituality beyond the institution of religion for our personal transformation and communal healing.