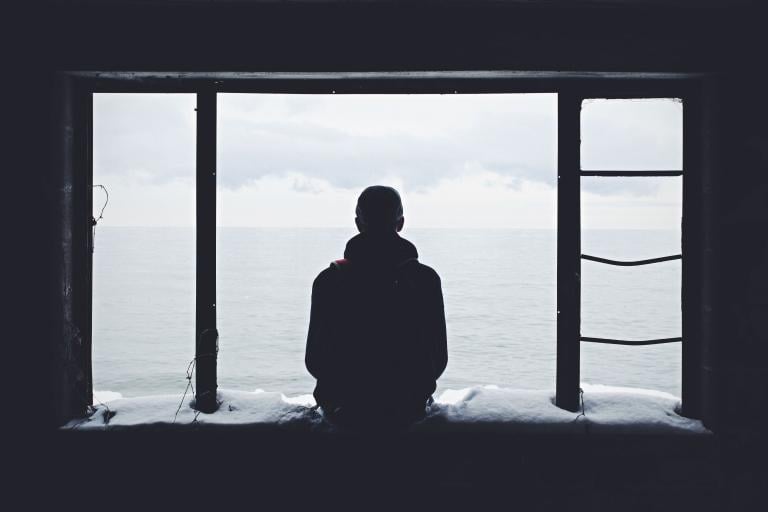 In 2013, I began to lead workshops on contemplative spirituality and meditation; this wasn't because I was an expert (far from it), but because I was searching for community.
I had grown up in a religious tradition that offered symbols and customs that just didn't work for me any longer: praying to what Christena Cleveland refers to as "whitemalegod," sitting quietly in a sanctuary staring up at a pastor who had the magical powers of blessing, singing of sacrifice and redemption. The teachings of folks like Richard Rohr, Rev. angel Kyodo williams, and Parker Palmer spoke to me in a new and deeper way.
I was searching for fellow journeyers who were also letting go of these traditions while seeking to connect with the sacredness of all things.
In the early workshops, I would start by asking people what they thought of when they heard the word "contemplation." In almost every setting, the results were the same. I would hear words like "silence," "darkness," "chanting," and most would paint an image of monks wandering the hallways of some far-off monastery.
I admit, this is what I used to think as well. But if that were the case, contemplation just wouldn't matter much to most of us. It would be a specialized field, only accessible to the wealthy who have leisure time and the monks with their vows and hyper-scheduled days.
I just don't think that's right.
In reflecting on her own life, Centering Prayer practitioner Tia Norman builds on this, reminding us the purpose of contemplation is infused within our everyday lives, not based on our sitting in silence or following strict rules. It's about how we begin to approach the world in a qualitatively different way.
"Engaging in the contemplative tradition has become more about how I engage with the world and less about the quality of any periods of silence."
(Read our full interview about her experience of contemplative spirituality here.)
For me, contemplative spirituality has come to center around three things:
The Divine is Right Here, Right Now. Rather than seeing the Divine as some far-off god who judges us from the sky, we are invited into a truly spirit-filled world, one in which That Which is Bigger Than Us is present in the here and now. Jim Finley, a Wisdom Teacher if there ever was one, says that the Divine is the "intimate immediacy of Love, manifesting itself in every moment." In this worldview, we have some really good news: every human, every animal, every plant, and every thing we see is infused with the sacred. Call it Divine DNA, if you will.

The Divine is Experiential and Embodied. If every thing is sacred and the Divine is with us at all times, even in the moments of pain and suffering, it means we can experience the Divine in every moment! Because what good would the Divine be if it was within us and around us but we couldn't access it? This is one of the key elements of a contemplative spirituality: if we are mindful and intentional in our day-to-day lives, we can begin to recognize our own divinity and the sacred nature of Life, in all its messy glory. In the words of Teilhard de Chardin, "we are not human beings having a spiritual experience. We are spiritual beings having a human experience."

Silence, Solitude, Stillness, Solidarity. A world that is infused with the Divine is a truly amazing place…and even more-so if we can lean into it. But most of us struggle mightily with that! We have jobs and kids and duties to get to, to-do lists filled with shopping lists filled with multi-store excursion lists. For most of us, our lives are already filled to the brim with the doings of life. Without even realizing it, we might find ourselves skimming over the depths of our own lives, moving from one thing to the next. A contemplative spirituality gives us some tangible tools with which to shift our default operating system from one of incessant doing to one of intentional being. By engaging practices of silence, solitude, stillness, and solidarity, we can come into more and more contact with the divinity within the present moment.

Silence: meditation, prayer, mindful breathing

Solitude: retreat, pilgrimage, body work

Stillness: rest, rejuvenation, relaxation

Solidarity: direct activism, working with those marginalized by systems of harm
Engaging a contemplative spirituality ultimately can't be about adding more to our lives. It's about shifting our inner sense of self and our outer worldview from scarcity to abundance, from consumption to creation, from production to celebration, and from seeking control to seeking justice.
Looking for a contemplative practice?
One of the most valuable contemplative practices I've engaged is called shadow work. It is a process and framework for gently looking at the parts of our stories and our communities we would prefer to leave unexamined. Learn more about shadow work here.