October is definitely (in my opinion) 'Season of the Witch' not just because of Samhain but because Mother Nature weaves her magical spell over the trees and plants and brings such amazing colours to the scenery, the darker evenings start to draw in and the air has a fresh crisp chill about it – all very witchy.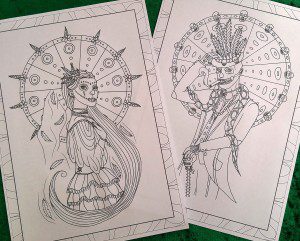 And then November arrives…
It is definitely a sign that the time to withdraw inwards is on the way.
November is a time for remembering, for looking back and giving thanks for what we have and then preparing for the dark winter months ahead.
It is a good month to work with the dark gods and goddesses but I do like to bring a bit of flare into it because my chosen deities for this month are two Loas…Maman Brigitte and Baron Samedi who sweep into November with colourful rum infused mayhem.
Baron Samedi is a Loa of the dead and the head of the Ghede family of Loas, the largest family of Loa in Vodou who embody the power of death and fertility. He is loud, rude, sexual and definitely loves to party. The Baron can be found at the crossroads between the worlds and greets the souls of the dead as he leads them to the Underworld.
Maman Brigitte is the wife of Baron Samedi and a Loa of the dead. She is loud, sexual and cusses a lot. She also definitely knows how to have a good time. She loves to drink chilli infused rum and guards graveyards and cemetaries. Call upon her for healing, luck and justice.
Work magic this month for:
Clearing
Freedom
Release
Relief
Protection
Inner work
Visualisation
Banishing
Psychic work
Divination
Planning new projects
Manifestation
Honouring your ancestors
Balance
Justice
Removing blockages
Ambition