What is 'advanced magic', what does it mean to you?
As I was browsing through my book shelves looking for something I realised I had a couple of books that included the term 'advanced magic' in the titles.
It got me to thinking about the question – what is advanced magic and what subjects does it really encompass?
I am not sure I have a definitive answer myself!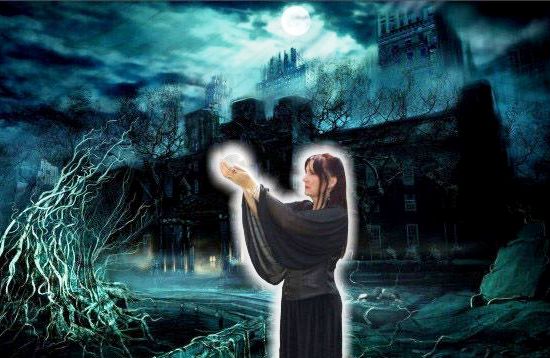 Study
If you have studied, learnt and experienced working with The Craft for a long time (more years than I can count), you will probably find yourself having gone through an arc. One that started with simple workings and progressed to more complicated areas and then back again to simple. Only this time you can work magic without any tools, spells or bits 'n bobs because the power of magic comes effortlessly from within you.
The question
However, it also got me to thinking about what subjects would generally be considered as advanced. If you have studied the first levels of witchcraft, learnt all the 101 stuff and are now looking to 'step up' what would you look to learn about next? If I was talking about my personal journey the answer would be 'everything I could get my hands on' as I have dipped into all sorts of avenues!
So, I asked the question on good 'ole facebook and I was surprised by some of the answers:
Spirit work, elementals, banishing, binding, shapeshifting, herbalism, mediumship, psychic abilities, trance, seidr, astral travel, dream work, nature spirits, Enochian, Kabbalah, Alchemy, Goetic, Chaos and group/community working.
My surprise
I was surprised to be honest. But I can understand why things such as astral travel, banishing and psychic skills are included. Having studied various methods and been trained in mediumship, seidr work and herbalism amongst other things and they do need guidance and experience. We also teach a lot of the areas mentioned within the Kitchen Witch School. So that is probably why I didn't immediately think of shapeshifting, herbalism, astral travel etc as advanced. But you do need a solid grasp of the basis of the Craft and a good amount of experience before tackling areas such as spirit work and astral travel.
The community and group working does make sense as well. Leading a group or community definitely needs to be someone with experience. Also patience, understanding and a whole heap of other stuff too.
Ceremonial
Although I have dabbled in learning about the Kabbalah, the areas of more 'ceremonial' (for want of a better term) such as Enochian magic do seem to come under the 'advanced' label. But for a simple Kitchen Witch like me it doesn't have any appeal (at the moment, never say never).
Experience
There is NO short cut to experience and I think that is important in any of the pathways. Witchcraft is a journey and one that needs to be followed at your own pace and not hurried or rushed. Leaping on your flying broomstick before you can walk is not advisable. Knowledge and experience take time to gain.
We never stop learning and I am always seeking out new avenues to study and try out. It is one of the wonderful things about the pagan journey. There are so many different branches and areas to learn about.
The answer…or not
As for advanced? I suspect what is deemed as advanced for one would not be for another. It is all a matter of perspective. (Told you I didn't have a definitive answer).