Confessions of a Christmas Witch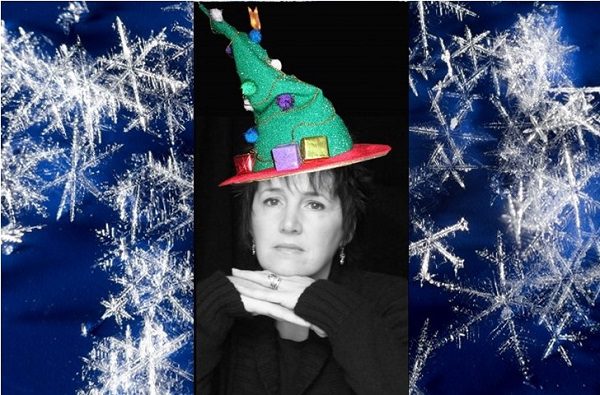 I admit it…I know it is early, but I have been struck by the Yule fairy…well and truly. I am a Christmas Witch.
I LOVE the festive season…I revert to being a total child at this time of the year, in fact I don't think I have ever lost that sense of awe.
I must put my hands up and say – we have done most of our Yuletide shopping but only because I hate being in the shops in December, waaaay too many people.
The films and cards
November I start to watch the films (OK perhaps it might have been late October, blame it on the Xmas 24 channel) and yes, I already have festive songs on the CD in our car.
Yule cards have been written but mainly because some have to be posted early overseas (who am I kidding? I would be writing them now anyway).  Charities rely on selling Christmas cards to make money for their cause and I always recycle the ones I receive as well but I also accept that some people prefer not to send cards.  Again, that is your choice to make, personally I absolutely love to send and receive cards but that is my choice to make too.
I am already skimming through cook books to plan what festive cookies and munchies to make and bake, although on 25th December we spend the day at my parents and get the whole 'shebang' done for us which is fab.
Celebrations and decorations
On the winter solstice I have my own small celebration as I am the only pagan in my family, but I am totally supported with what I do.  I still keep trying to persuade them I can open my presents on the solstice, but I haven't won that argument yet…
Decorations go up on 1st December. However, decorations usually come down on 26th/27th December because it all seems to be done and dusted by then and I want to clear up, clean up and get sorted.
Tolerance works both ways
But not everyone likes the festivities and I can totally appreciate that everyone is an individual and entitled to feel exactly how they want to, I really do.  But it has to work both ways.  I have purposely not posted loads of festive pictures on my facebook page yet because I don't want to upset those of my friends that prefer to wait until closer to the day.  But in return please don't berate me for liking and enjoying the season.  It is my own personal choice and I am entitled to that and in fact it is my facebook page and if I wanted to post photos of Yule logs in August I can!
Bear in mind as well that we are heading to the end of November – one month until Christmas and even closer for the Winter Solstice. I don't think it is too early to be getting into the festive spirit. In fact, I was looking at Halloween pictures on facebook in early September…two months away from the actual date.  No one seemed to complain about Halloween decorations being in the stores too early?
Commercialism
Yep I get the whole 'it's too commercialised' thing but it doesn't have to be – it is us as the consumer that holds the power to change that.    We can choose to only buy one present for each person, we can choose to make presents, we can choose to shop locally, we can choose to buy from crafters and artisans…our choice.
A lot of businesses rely on the Christmas 'spend' to keep them afloat, whether it is the big businesses or the small ones.  Those businesses employ people…they employ people like us…they provide jobs and wages to pay our bills to keep food on our tables and a roof over our heads…
Celebrate
For me this time of the year is about celebrating, about being with family and friends. I work with the building energies of the season.  I watch silly Christmas films that make me cry and feel good about the Christmas Spirit. And on the Winter Solstice I celebrate the return of the sun.
I have decided that I am totally in the wrong job though…on reflection I am very well suited for another career…
I love the festive season
I love mince pies
I love to bake cookies
I love elves
I love the cold, wintery weather
I love reindeer  (can you see where this is heading?)
I love cheesy festive decorations
I love Yule trees
I love wrapping presents
I love writing cards
I own several fabulous festive jumpers and elf slippers
I have a belly that wobbles like a bowl of jelly when I laugh…oh no wait a minute that's the other guy…
I should totally be Mrs Claus…
Life is a roller coaster ride, the energies of the year ebb and flow…I like to 'ride the wave' of the build up to Yule. I love cards. I love Yule trees. I love festive food, celebrations, catching up with friends and family. I love sparkly lights. I love tinsel and I love the festive spirit…good will to all…now if we could only extend that spirit throughout the whole year.