Kitchen Witch Bakes For December
The winter solstice of Yule as it is often called, arrives in December. The shortest day and the longest night, it is from this day onwards that we start to get a little bit more sunlight each day. A time for family, friends, get togethers, feasting and celebrating.
We probably all over eat at this time of the year, I like to think of it as fuel to help keep my body warm…The scents and tastes at Yule are amazing with cinnamon and cloves being my favourites, just the smell of mince pies baking in the oven sums up this season for me.
Sprinkle cookies (vegan)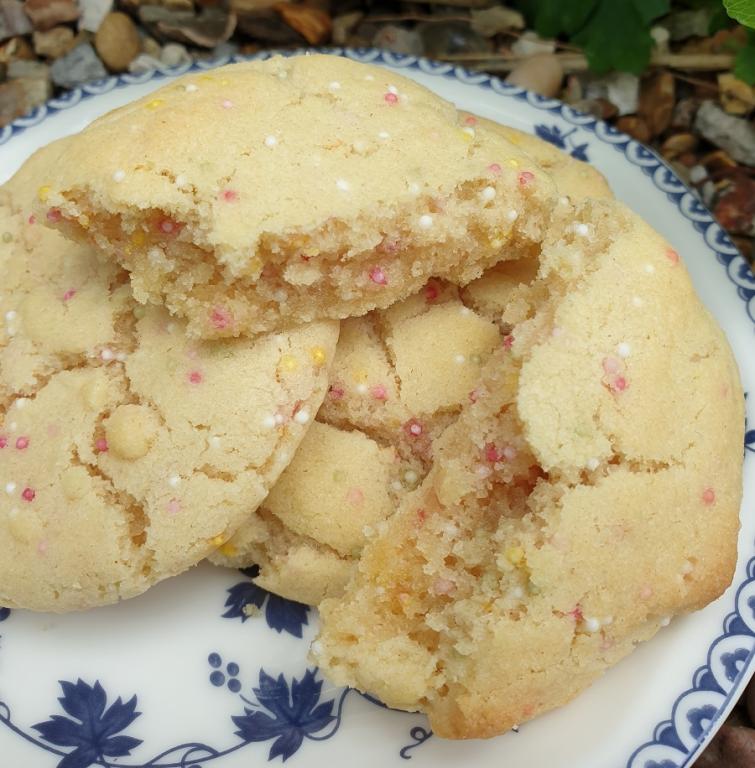 These are not only pretty but absolutely have to all be eaten in one go…well that's what happens in our house anyway. If you only try one vegan cookie, make it this one – I guarantee it will change your view on vegan baking.
300g/10 ½ oz plain flour (all purpose)
1 teaspoon baking powder
¾ teaspoon bicarbonate soda
½ teaspoon salt
3 tablespoons sprinkles
200g/7 oz sugar
100g/3 ½ oz vegetable oil
60ml/2 fl oz water
1 teaspoon cider vinegar
1 teaspoon vanilla extract
Line two baking trays with baking parchment.
Mix together the flour, baking powder, bicarb, salt and sprinkles.
In a separate bowl mix the sugar with the oil, water, vinegar and vanilla.
Add the wet ingredients to the flour mix and stir until combined.
Scoop out a tablespoon of the dough and make it into a ball shape, pop it on the tray and press it down a little with your hand to flatten it slightly.
Once you have all the cookies out on the trays, pop them in the fridge for an hour. This helps them to keep their shape once they are baking.
Pre heat the oven to 190C/375F/Gas 5.
Pop the trays of cookies into the oven and bake for about 10 minutes. They will puff up slightly and be very lightly coloured on the bottom.
This recipe should make about 12 cookies.
Spice bombs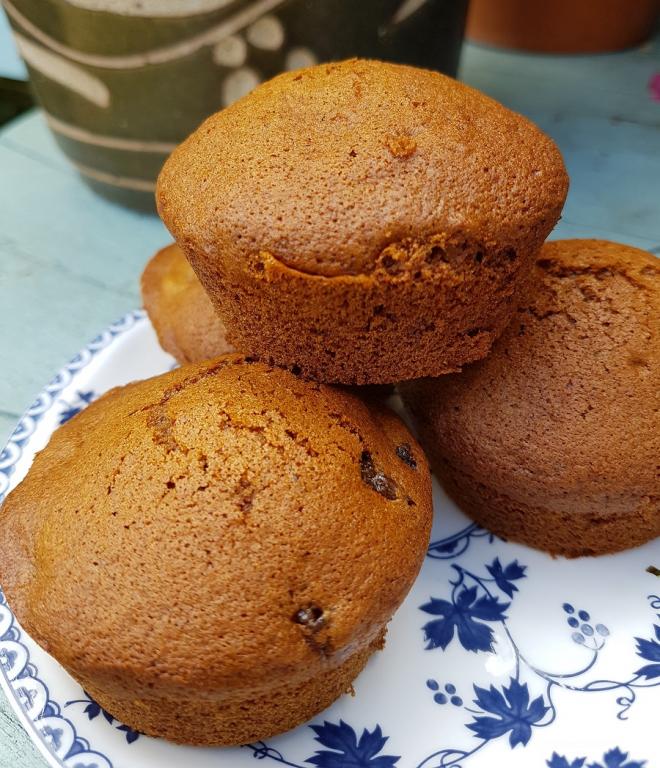 These are little cakes filled to the brim with warming spices. Eat them as they are, warm from the oven they are very special or slice in half and spread with butter or jam.
150g/5 ¼ oz golden syrup
150g/5 ¼ oz soft brown sugar
150g/5 ¼ oz butter
4 eggs
400g/14 oz plain (all purpose) flour
2 teaspoons bicarbonate of soda
4 teaspoons ground cinnamon
2 teaspoons ground cloves
200g/7 oz sultanas
Preheat the oven to 180C/350F/Gas Mk 4.
Over a low heat melt the golden syrup, sugar and butter in a pan. Leave to cool a little then add in the eggs, mixing after each addition.
Next stir in the flour, bicarbonate of soda and spices. Once it is fully mixed together add in the sultanas and stir again.
Butter a 12-hole muffin tin and spoon a dollop of mixture into each hole. You only want to fill each one up to about halfway. You may have enough mixture left to do another half batch. Don't overfill otherwise they will explode over the top and that won't be pretty.
Bake for about 20 – 25 minutes.
Recipes from:
Publication 29th May 2020
​
A book to take you through the seasons. Cooking with produce when it is at its best (and cheapest). Recipes for all, with menu ideas to reflect the energy of each month of the year. Family style, no fuss cooking to nourish the body, spirit and soul.


12 sections with recipes for each month to reflect the product that is in season, which include; meat main, vegetarian/vegan main, soups, standard and vegan desserts, bread and of course…cake; both standard and vegan cake options.