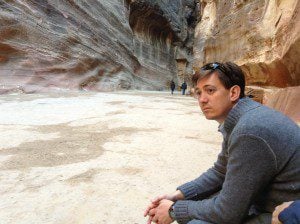 It's been a long several months. I have passed my written and oral exams, and am on to writing my dissertation proposal. I'm currently traveling, and have a lot on my plate to get caught up on, but I hope to return to my weekly Gospel Doctrine writing (and other things) soon.
Well, soonish.
In the meantime, let's talk about my dissertation and summer speaking.
I'm very excited about my dissertation on creationism and biological evolution in the LDS Church after 1970. Here's a 30,000 foot very early academic overview of the direction my proposal is going right now.
How has the "quintessential American religion" fared with the quintessential crux of American religion, science and scripture, evolution and creationism? This dissertation examines how the unique structure, theology, and intellectual contexts of the Church of Jesus Christ of Latter-day Saints led directly to "open warfare" between its flagship University departments beginning in 1970, with an ostensible dénoument in 1992, and then tracing the broader not-insignificant effects to the present.

I argue that latent hermeneutical and epistemological assumptions lie at the core of the LDS chapter of this conflict, and that understanding post-1970 events is impossible without close attention to earlier intellectual history. A variety of competing and largely unrecognized assumptions were in the air in the late 19th century, came into stark conflict in the early 20th, and then one particular set took root in the 1950s, becoming firmly entrenched by the 1970s. While the LDS Church generally came to reject the scientific positions entailed by these assumptions (particularly through Joseph Fielding Smith), the assumptions themselves which generated those positions remain present but unrecognized, unmarked shallows on which ships run aground.

For the pre-1970 years, then, my intent is not to present a history per se; much has already been written on that period, but virtually nothing since. Consequently, to contextualize what happens after 1970, I revisit prior events only to 1) provide new details, 2) draw out the relevant assumptions, and 3) set the LDS history within a broader American intellectual and scientific context.
I'm integrating several fields and kinds of history here: Biblical criticism and hermeneutics, history of science, intellectual history, American religious history, and LDS history. It builds on my earlier work such as this (if the video link there doesn't work, try here), this, and this.
Now, not a lot of details there. Those will come in the formal proposal, which runs 20-25 pages. My research, at its broadest, will include a number of interviews with professors, Church administrators, curriculum writers, and also a lot of archival research. It will cover scripture, pre-adamites, BYU and Church curricula, evolution, and dinosaurs, including the  establishment of BYU's two museums.
---
I'll be in Utah this summer doing research, but also speaking. You can hear me at the FAIRMormon Conference in early August giving an expanded and adapted version of my paper from last October's Joseph Smith Papers Conference: What do the LDS creation accounts tell us about the nature of revelation, and how should that understanding shape our expectations of ancient and modern prophets? It builds on my last one, which you can watch here.
I'm also scheduled to speak at BYU's Education Week in late August. (The schedule will be available July 1.) My Sperry Symposium presentation on reading the Old Testament in Context will be expanded in both time and subject. Over four days, I'll make four 1-hr presentations on Reading the Bible in Context, with demos of some tools, books, etc. My outline looks like this.
Making Sense of the Bible by Putting the Text in Context
Day 1 "Un-wresting" Scripture: Contexts, Tools, and Kinds of Interpretation
Day 2 Textual and Historical Contexts of the Bible
Day 3 "My Soul Delights in Reading the Word of the Lord in the Original": Linguistic Context and Reading in Translation
Day 4 Reading Scripture Literally, What That Means, and Why We Need to Do It More: Genre and Literary Context
I'm excited by all of this, but especially day 4.
As always, you can help me pay my tuition here, or you can support my work through making your regular Amazon purchases through the Amazon links I post. You can also get updates by email whenever a post goes up (subscription box on the right). You can also follow Benjamin the Scribe on Facebook. If you friend me on Facebook, please drop me a note telling me you're a reader. I tend not to accept friend requests from people I'm not acquainted with.