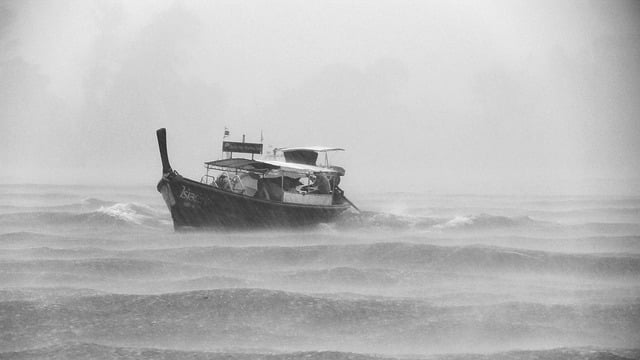 You remember the story of the storm at sea, right? The disciples were in a boat with Jesus on the Sea of Galilee when a fierce storm popped up (Mark 4:34-41) out of nowhere. Thinking that they were going to die, they freaked out while Jesus slept. Eventually they woke Jesus and accused him of not caring if they drowned.
"Why Are You Afraid?"
After waking up and calming the sea, Jesus asked them why they were afraid. Is he kidding? Anybody can see why they were afraid. If these men (who were experienced fishermen) were afraid, this must have been one heck of a bad storm. Actually, he had every right to ask this question and it's because of something he said before they got in the boat. If they were listening and trusted him, they wouldn't have panicked. Here's what they missed…
On that day, as evening drew on, he said to them, "Let us cross to the other side." (Mark 4:35)
Did you catch that? He told them that they would get to the other side. They weren't going to drown halfway. Either they weren't listening, didn't trust him or they forgot about his words when the storm arose.
Sounds familiar, doesn't it?
"In the world you will have trouble, but take courage, I have conquered the world." (John 16:33)
Like what you're reading? Click HERE to get BE NOT AFRAID with GARY ZIMAK delivered to your inbox each day for FREE!