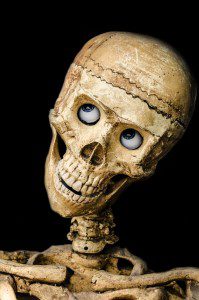 Someday, you're going to die.
Yes, you.
Maybe it will be something sudden.  You'll be crossing a bridge, walking your bike with the pedestrian light, and a drunk driver will whip through the intersection, not notice the blinking light, and you'll be Humpty Dumpty.
Maybe it will be something longer.  Cancer, maybe.  Cancer gets lots of people.
Or maybe, just maybe, you'll actually go the distance.  Maybe you'll avoid all the accidents, not get cancer, not get Alzheimer's.  Maybe it will be old age that gets you.  You'll be a hundred and ten.  You'll have arthritis and bad bowels and all your faculties, but a tiny blood vessel in your brain will explode and you'll have a stroke and be dead before you hit the floor.
And guess what?  There's not a single fucking thing you can do about it.
Nothing.  NO-thing.  No amount of hand cream or botox or face lifts will save you.  Death even got Joan Rivers in the end.
No amount of positive thinking will protect you.  Wayne Dyer, who was bragging in an audiobook I was listening to about how it had been twenty years since he got a cold, got cancer.  He's still with us, but how long before it comes back?
No amount of exercise will stop it.  Jim Fixx died of a heart attack — while running!
So knock it off.
Knock off all the silly superstitious bullshit that you think is going to protect you.
Stop hiding all the old and the broken people away where you don't have to look at them.
Stop worrying about what other people eat because you're jealous, since you can't bring yourself to enjoy an occasional cheeseburger without guilt.
Stop with the Power of Positive Thinking and the Secret.  Stop with the victim-blaming.  Stop with pretending that if you just colour inside the lines, it won't happen to you.
Because it will.  If not now, then later, and there's no amount of magic that is going to protect you.  No one has achieved immortality through magic yet, except maybe St. Germaine.

"Cow Skull" by Lucy Toner. Courtesy of Publicdomainpictures.net.
So why let it bother you?
Okay, you might live a little longer if you don't eat burgers all the time.  But one cheeseburger really will not hurt you that much.
Old age isn't a disease.  Hiding and marginalizing the old will not prevent you from getting old.  It's not catching; it's already programmed into your DNA.  Everything breaks down in the flesh.  Physical bodies cannot last.
If you develop positive thinking, life might be more fulfilling because you will not dwell on unhappiness.  But it will not prevent bad things from happening to you.
More than that, losing your irrational fear of death will make you a more compassionate person.
If you don't try to tell yourself that the homeless guy on the street corner just isn't thinking positively enough, maybe you'll give him some spare change.  Maybe you'll buy him one of those hamburgers you can't bring yourself to eat.  Maybe you'll even actually talk to him, and you'll learn his name is Joe and he's a Desert Storm vet with PTSD who was abandoned by Veterans Services because they don't want to admit that Gulf War Syndrome is a thing and he drinks so he can sleep.
If you don't think that old age is a disease that you might catch, maybe you'll spend some time with older people.  And you'd be amazed at what you can learn when the past is something that happened to someone in your monkeysphere and not something you read about on the internet.  If you don't try to tell yourself that younger people are more valid than older people, maybe you'll glean some wisdom because nothing is new under the sun and likelihood is that your original, "innovative solution" has been tried before.
The irrational fear of death is what keeps us from getting involved when we should.  It's what stops us from standing up against wrongdoing; because, after all, maybe someone will target us if we say something.  It's what keeps us from caring when caring matters.  Easier to try to believe there's a reason why one person is lucky and one isn't.  Why some of us constantly struggle and others have everything handed to them on a plate.  Why one person dies from choking on a chicken bone in their soup and another lives through being struck by lightning with no permanent damage.
But don't you believe it!  There is no reason.  Sometimes, bad shit just happens to good people.  And sometimes, good shit just happens to bad people too.  No one's keeping score.  There's no brownie point system.  Impressing whatever god you believe in will not result in earthly rewards, nor protect you from harm because you've earned enough good karma points.
So, since that's something you can't control, stop letting it control you.
Let it go!  Relax!  Have fun every once in a while!  Take risks!  Dare!  Because life is more fun when you're not worrying about how it's going to end.  And love is easier when you're not afraid of people.
---
Like Between the Shadows on Facebook and never miss a post!