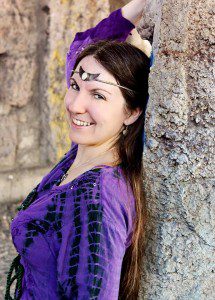 Sable Aradia (Diane Morrison) is a former Wiccan minister and a Third Degree initiate in the Star Sapphire and Pagans for Peace traditions.  She has also been a traditional witch and hedgewitch for some 30 years.
She writes "49 Degrees: Canadian Pagan Perspectives" at PaganSquare and wrote the column "Seekers and Guides" for Agora, which she has continued here at "Between the Shadows." Also a musician, a speculative fiction writer, a Pagan author and a National Novel Writing Month winner, Sable reads Tarot and teacups and teaches magick and Witchcraft online and in person.
She is 43 years old and she lives in Vernon, BC, Canada with her two life-partners and her furbaby, a three-legged cat.
Links:
Blog: sablearadia.wordpress.com
Between the Shadows Facebook Page
Also see social media links in the sidebar.
---
Comments Policy:
I don't believe that freedom of speech is freedom to say whatever you want without taking responsibility for it and accepting the consequences.  I come from a multicultural pluralistic society.  I expect the same standard of politeness in this forum that is expected in a Canadian public meeting.  I enforce Canadian standards in regards to racism and other forms of prejudice, and I don't tolerate "alternative facts."
I have been a serious practicing witch for some 30 years and am a High Priestess in two traditions. I say this because I seem to attract a certain brand of commentor who comes here with the intention of "educating" me. Please don't waste your time or mine. If you think I'm an idiot who requires instruction, by all means tell the world about it on your own blog. Don't come into my house to do it. I will remove you.
I welcome debate and discussion, even criticism, but I maintain a safe space here in which it's not okay to be rude.  I expect people to be polite to me and to each other.  Failure to do so will result in the removal of your comment.  Repeated offenses will result in being banned.  I also ban people who come to argue which religion is better on the first offense.