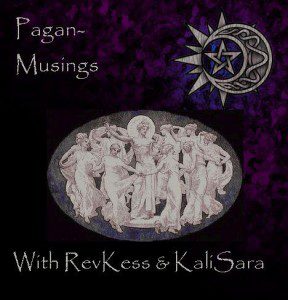 I was on the Pagan Musings Podcast last night to talk about my new book, publishing, and how socialization isn't the devil.  If you want to listen, the link is here.  They also played a couple of my songs, and provided handy links where you can find all the projects, articles, and websites we talked about in the course of the podcast.
They had me on the show a couple of years back too, when The Witch's Eight Paths of Power came out, and you can listen to that here.
It was a real pleasure to be able to talk with RevKess this time instead of just KaliSara, but I'm almost disappointed because he did most of the talking!  But I had a great time!  And they've got lots of great stuff coming out in the next little while, mostly authors that I want to hear more about, so listen in if you get a chance!
---
In other news, I'm doing a charity event to raise money for premature babies and autism awareness tomorrow evening, and it continues on Wednesday as well.  It's important to me because it just so happens that I have one nephew who was born premature, and another with Asperger's Syndrome.  Check it out here.  There's quite a good schedule of independent authors who write in various genres, so I'm sure there's something for everyone!  And we're raising money for a good cause, and we're even rewarding you for it.  Aside from the many giveaways that tend to be part and parcel of a good author takeover event, a $50 prize will be drawn randomly, and awarded to one of the donors of the author whose readers collected the most.  Right now I am proud to say that you, my readers, are leading the pack. 😉
---
Just this brief note for now, though we talked about quite a lot of different things on the podcast and I think you might enjoy it!  More coming later this week.
---
  Like Between the Shadows on Facebook and never miss a post!