Since I left Durham the first time, there have been some new buildings built, though surprisingly not that many in a period of 35 years. The ones that caused the most comments, both positive and negative have been the Palatine Centre and the Bill Bryson Library (yes that Bill Bryson if you are a reader of good books). Here first of all are some shots I took on a nice bright morning of the Palatine Building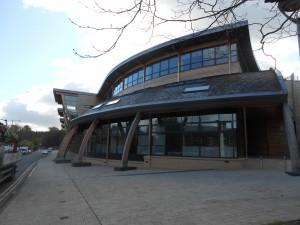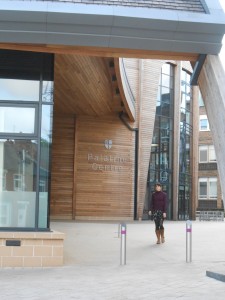 The Palatine Centre has all sorts of administrative offices for job placement, counseling, help with computers etc. but at the far end of the Centre is the Law School.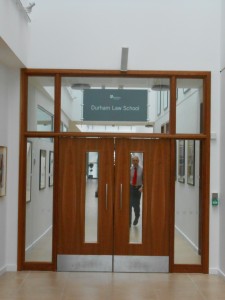 The Centre in general is a haven for not merely modern architecture but modern art as well.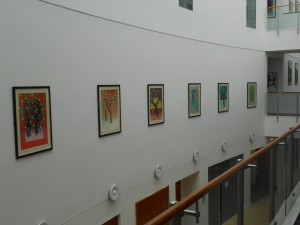 There are some nice views from the 2nd and 3rd floors of the Palatine Centre—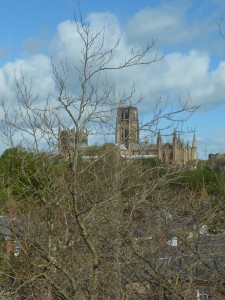 It is also true that you can't get up on the second or third floors of the Palatine without someone taking you up there, except at the Law School end of the building.
Directly adjacent to the Palatine Centre is the new Bill Bryson Library.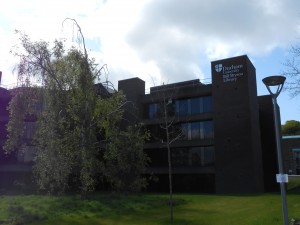 While on the outside it looks rather plebian compared to the Palatine Centre, on the inside it is architecturally impressive.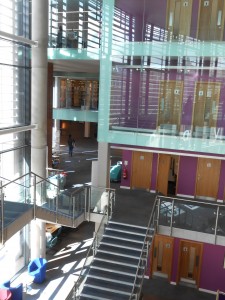 Notice the Palatine Purple everywhere, which is the Durham color.
This building has interesting study cubicles.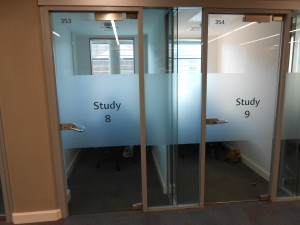 And an equally fine view of the cathedral, which architecturally could not be much more different from the Bryson library.