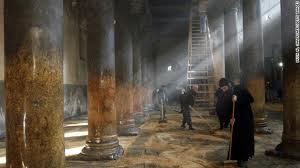 Matthew Kalmann has recently written an interesting article for the Guardian on the Church of the Nativity. Below you will find a small excerpt, and immediately below you will find a link to the article. It turns out, graffiti may have been a sanctioned practice in medieval churches and even earlier ones….
http://www.theguardian.com/world/2013/dec/23/graffiti-selfies-record-bethlehem-pilgrims-church-nativity

"Much of the graffiti is more suited to a park bench than the birthplace of Jesus. Mazen and Mustafa simply wrote their names. Hassan signed each of the 44 columns with an artistic flourish. MAH tagged a column in 1940, just above YM, who visited in 1938. GS Diek signed off in English and Arabic in 1930.
The prayers are interspersed with scribbled passages from the Bible and Qur'an. "God remember me," is written in the stonework in several scripts and tongues. Ibrahim offers a prayer for his beloved wife, Suad, hoping she will have a happy life and that they will be "together for ever".
"Here in this blessed place, I write this in my own hand," proclaims B'shara Ibn al-Wafi, praying to God for the protection and prosperity of 21 family members. His prayer is undated, but the archaic names painstakingly listed suggest it is not recent.
There are more messages on the marble facing of the Holy Nativity grotto beneath the altar. "God have mercy on me, I am a sinner, Deacon Suleiman, 1960," confessed a Lebanese priest near the exit from the grotto in the Armenian chapel dedicated to the Magi. "God remember your servant Yusef and have mercy on his parents," says a prayer chiselled into the marble."