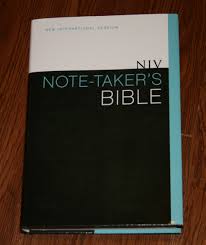 I don't often take the time to endorse a particular translation of the Bible. There are many useful ones, and several really excellent ones in English, but in this case both the season and recent publication of the new NIV have led me to say something on behalf of this translation. This 2011 translation, based on the best of both the previous NIV and TNIV with updates gets so many things right that it really eclipses its competitors. It goes for both clarity and accuracy of expression in good plain English and is sensitive to the differences in the way gender language was used in antiquity and the way it is used today in most English-speaking contexts. It is also careful to correct previous mistakes of earlier translation. For example, take a look at Heb. 12.2 which reads in the new NIV 'fixing our eyes on Jesus the pioneer and perfector of faith'. Notice the absence of the word 'our' before 'faith'. This is because no Greek manuscript has that addition, and it is in any case doubtful that the author is referring here to 'our faith' because all throughout the previous chapters and right into chapter 12 the author has been presenting us with examples of faith and faithfulness, and there are none greater than Jesus himself, who is likely presented as the climax of the hall of faith. Or consider the rendering of Phil. 4.13, the so-called superman verse— the new NIV has 'I can do all this (i.e. the things mentioned in the previous two verses— such as enduring want as well as plenty, suffering as well as good times) through Him who strengthens me'. In other words— Paul is not claiming you can do just anything through Christ. Or consider the new NIV's absolutely correct rendering of Lk. 2.12, whatever the implications for manger scenes and Christmas pageants— "she wrapped him in cloths and placed him in a manger because there was no guest room available for them."
For those who are looking for reliable traditional renderings of key texts, consider the NIV's use of 'the virgin' in Isaiah 7.14 whereas many modern translations have gone with the more usual rendering of almah as a young nubile woman of marriagable age.
I am certainly not saying that this new NIV is an 'inerrant' English translation, as there are none of those. For example, the new NIV gets 1 Cor. 7.29 wrong— it should read 'What I mean brothers and sisters is that the time has been shortened' not 'the time is short'.
I especially like the new Notetaker's NIV Bible as it has good clear print, of a reasonable size, it keeps its own notes to a minimum, and it has good margins for us to make our own annotations in it. I intend to use it for Bible study and preaching.
One of the real virtues of the NIV is that it is a not a niche translation for some specific narrow target audience but rather is suitable for use with all ages. There is in addition plenty of literary sensitivity in the translation, and prose is rendered in good prose, and poetry in poetic form. It is also not of such an unwieldy size that it is at all difficult to carry around. To the contrary it will fit nicely into your medium sized purse, your backpack, your computer bag, your briefcase or whatever.
While it may be true that 'of the making of books there is no end' it is not true that 'of the making of good translations of the Good Book there is no end'. In short, while there are many translations that are good, but like the good wife of Proverbs, this one excels them all.