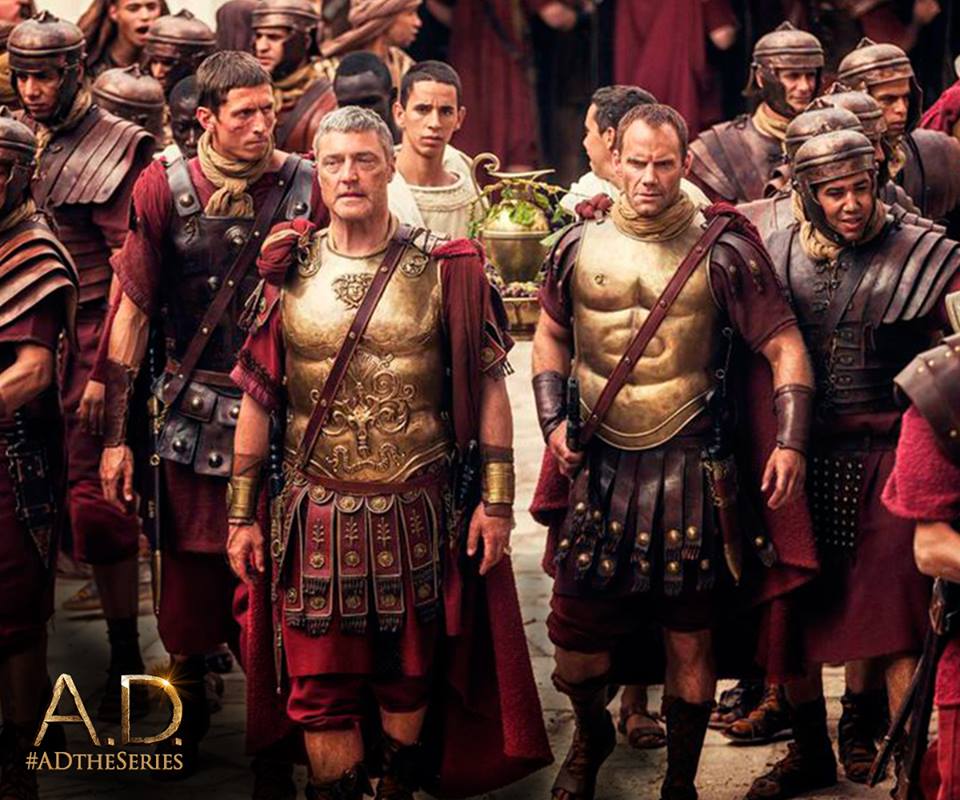 At the very end of episode 5 of A.D., we were introduced in a most effective manner to Saul of Tarsus, present at the stoning of Stephen. In this episode, Saul takes center stage. It is easy, too easy, especially for Protestant to ignore or forget about the man Paul was before Damascus Road. At a minimum various texts tend to be glossed over in the rush to making Paul the Proto-Protestant and hero of the Reformation spirit. It's in order then to remind ourselves of Paul's own testimony about his former life: 1) in Gal. 1.13 Paul admits he was violently persecuting the church of God and was trying to destroy it; 2) in 1 Cor. 15.9 he admits the same again; 3) in Gal. 1.21-22 we hear that Paul goes back to his home region for a considerable period of time, and that he is unknown by sight to the churches of Judaea, though they heard that the one who had formerly persecuted them was now proclaiming the faith he formerly tried to destroy. These are strong words, but if we add to them the accounts in Ephesians, the Pastorals and Acts, the picture becomes clear that Saul was not only a zealot for the Law, he was probably at least indirectly responsible for the death of some of the earliest Jewish Christians, having brought them before the Sanhedrin for judgment, presumably like Stephen, for blasphemy. It is clear that Burnett and Downey take all this very seriously in the portrayal of Saul in episode 6. He is shown to be a man consumed with anger at those he takes to be Jewish betrayers of God's Word and the Temple. It's unfortunate that the encounter with Gamaliel, his teacher, is not given more play, indeed Gamaliel is not ever really identified, and we miss entirely his famous lines about 'if this movement is not of God it will fail, if it is, on the other hand, you will find yourself opposing God.' Here is one of those instances where Anthony Quinn, in the film Peter and Paul does a much better and more convincing job of portraying Gamaliel.
There is also in this episode, considerable portrayal of the vulnerability of Caiaphas, both from the side of Antipas' sponsoring of him, and from the side of Pilate. It is suggested he might be replaced by Jonathan, another relative of Annas, a move which Pilate nixes. Pilate continues to be the unappealing character he has already revealed himself to be in earlier episodes in this series.
It is interesting to listen to the preaching of Peter in this series, which certainly has the right Christological thrusts, though having Peter reciting the Gospel of John is not like the speeches of Peter in Acts. The notion of Christians having a base camp on a piece of land given by Barnabas not far outside of Jerusalem, is also an interesting fiction. In a work of historical fiction like this, a docu-drama, one must expect some filling in of the gaps in the story in Acts and Paul's letters, but the fundamental rule that ought not to be broken is creating scenes or ideas that either violate the Biblical account, or the history of early Judaism as represented in Josephus and other sources. Unfortunately, for the first time in the series, that line will be crossed in the next episode by the bringing of Tiberius to Jerusalem. But Tiberius hardly even went to Rome from his island retreat on Capri, never mind came to Jerusalem. Nevertheless, so far this series has done a general good job of presenting us with the basic Biblical story line, and a better than average job of showing us just what a tense situation it was in Judaea with the machinations of both the high priests and Pilate and the Zealots. It will be interesting to see how this plays out in the second half of this season's series of A.D. episodes. We are now half way through.