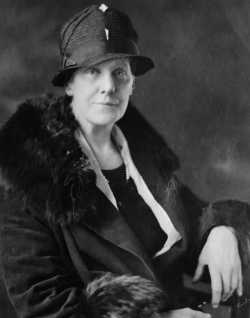 Anna Marie Jarvis was in many ways a remarkable woman. Born near the end of the Civil War (in 1864), she grew up in a staunch Methodist Episcopal family in West Virginia, born in Webster, and later in childhood living in Grafton. One of 13 children, of which four survived to adulthood, her life revolved around church and her mother, to whom she was utterly devoted. Anna Jarvis, like many Methodist women after the Civil War was an activist in both her Andrew ME Church, and in the community, and founded not only Mother's Day, but Mother's Day work clubs for women. She felt called to various kinds of ministries and with the encouragement of her mother she attended Augusta Female Seminary (YES, there was such a school) in Staunton Virginia, a school which later became Mary Baldwin College. She returned home to work in both the public school system in Grafton and in her church. Already, when she was just twelve, God planted a seed in her heart about creating a mother's day celebration, based on a Sunday School lesson she read in 1876. On that day she is reported to have said…. "I hope and pray that someone, sometime, will found a memorial mothers day commemorating her for the matchless service she renders to humanity in every field of life. She is entitled to it." Little did she know that later in life, she would be the one God would use to make sure that happened.
On May 10th 1908, exactly 107 years ago today, three years after her mother had passed away, Anna held a memorial service at Andrews ME Church to honor her mother and the sacrifices of all mothers. The following events are told this way on Wiki—
"In the ensuing years, Anna Jarvis embarked upon a campaign to make "Mother's Day" a recognized holiday. She spent a significant amount of time writing to countless business executives, church groups, and politicians at the state and national level to promote the commemorative day. Jarvis was singularly dedicated throughout this process, resigning her position at Fidelity Mutual and incorporating the Mother's Day International Association (MDIA) in 1912 to encourage national and international recognition of the day. During her campaign, the holiday spread throughout every U.S. state and numerous foreign countries, including Canada, Mexico, China, Japan, and throughout South America and Africa. After her persistent efforts, Mother's Day was finally proclaimed a national holiday in 1914 by President Woodrow Wilson.
Ironically Anna Jarvis spent so much time making sure mothers got honored with their own day in the calendar, that she herself never became a mother, having never married. She provides us with a wonderful example however of what Jesus meant when he said 'some have made themselves celibate for the sake of the Kingdom' (Mt. 19), like her Lord Jesus himself.