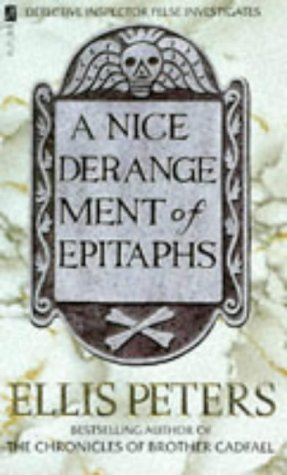 When Ellis Peters gets on a roll, she gets on a roll. Fresh off of the third novel in the Inspector Felse series ('The Flight of the Witch', see previous review) she decided that a pirate adventure in beautiful Cornwall, during the late summer holiday season was a perfect setting for a murder tale. And she was right. First published in 1965, (and with a different title in the U.S., namely the boring 'Who Lies Here?') the author was still a good twelve years off from starting her epic Cadfael Chronicles, but she was already honing her skills with these murder mystery novels, featuring the father and son team of George and Dominic Felse. This novel doesn't involve literary tricks, it's just good story telling, with something of a surprise ending. Here is the summary given of the opening gambit of the story….
"'Shed here no tears. No Saint could die more blessed and comforted than I' read the epitaph composed by Jan and Morwenna Treverra before their quiet deaths centuries ago. But the pious portrait of content they conjured fragments when permission is granted for their tombs to be opened – and an all too twentieth century corpse is found within." The story centers on the Rossall family— Tim, Philippa, and Paddy and his Uncle Simon Towne, a famous speaker and raconteur. The Felses happen to be in the little town of Maymouth on holiday, when George is dragged into a murder investigation.
The pace of this short novel (192 pages) is not brisk, and detailed description, which Peters is so good at, is not skimped. There is murder, romance, exploration, skull duggery, rum running, and family squabbles to keep the tale moving and interesting. At points the Rossall family intrigue bids to eclipse the murder investigation intrigue, as Peters weaves the various threads of her story together. The last several chapters of the novel show Peters at her best with the 'reveal' and proper tying up of lose ends in satisfactory fashion, saving the biggest surprise for the last few pages. It is interesting that Peters feels secure enough in her story telling not to feel compelled to make the Felses the central characters of each of these novels. In this one the Felses are not even the main investigators of the crime. What this shows is that it is all about getting the story and description right, and letting the characters fit appropriately into the drama.
Once again the novel stands on its own, and is not a continuation of the previous tale about 'the witch', which is a very good thing. For those singing 'it's a pirate's life for me' and rather fond of that Kentucky boy Johnny Depp, this is the novel for you, just for fun.