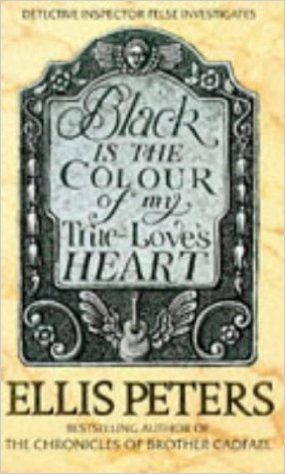 The sixth in the series of thirteen murder mysteries is the tale called 'Black is the Color of my True Love's Heart', and apt title for a very interesting novel indeed. The ethos of the novel has to do with the art of folk singing and folk songs or ballads. In America we might think of the songs of Stephen Foster (1826-64) that good Kentucky boy who wrote Camptown Races, Oh Susanna, and many more. Folk songs of course are often anonymous and passed down for centuries without attribution whether one is thinking of Oh Shenandoah or Oh Danny Boy. The British Isles of course have a long tradition of ballad writing, and even buskers singing them in the tube stations. Edith Pargeter, aka Ellis Peters, either did her homework for this novel or was herself rather learned in the art of folk music or ballad singing. Either way, it makes for an excellent read especially for those who grew up in such music, as I did. Even my earliest forays into popular music involved people like Peter Seeger and Joan Baez and of course early Bob Dylan. They were simply continuing a long tradition. And it could also be said that Bluegrass music with its often sad and melancholy tunes in minor keys are a development of this same tradition. Go listen to an Allison Kraus CD and you'll see what I mean.
The setting for this novel is Follymead, a properly named Victorian monstrosity turned into a music school and performance institute of sorts. It is probably not an accident that this novel appeared in 1967, right at the point when British music was being overwhelmed by the Beatles, the Rolling Stones etc. who occasionally did ballads of the old sort (think 'Michelle' or 'Lady Jane'). It's probably too much to suggest this 202 thriller, which is a real page turner with all sorts of plot twists, was intended as a protest against the rock and roll revolution, but it is an affirmation of the older folk music for sure. Folk music was often protest music, or truth-telling music in song. It was the sort of thing in medieval times that only the Fool or court jester could get away with singing the King, but the Fool was no ordinary ministrel.
Follymead is aptly named because all over its huge grounds were 'follys' faux classical buildings in miniature— a Greek temple, a pagoda etc. The grounds play a central role in the plot, as does the house. This is a novel that could well be turned into a play because it has such a fixed setting– the great foreboding Victorian manor house. In this particular story George Felse is to the fore in solving the mystery, but Dominic and his newly minted girl friend Tossa (whom we first met in the immediately preceding novel 'The Piper on the Mountain' play an important role. The rest of the dramatis personae are quirky folk musicians and a professor of folk music, and the runners of the estate— the Arundales and their staff. If there is magic in the air, and romance as well, there is also menace and trouble brewing too. Musicians are indeed an untidy and emotional lot, and when you get them all together in one spot for a music course and extravaganza all kinds of combustion can happen.
One of the things that Ellis Peters is good at, which one needs to be good at to write mystery novels is: 1) producing alluring false leads, like false paths in a maze, and 2) being able to hide key clues in plain sight, which are not made sense of until the climax of the novel and 'the big reveal' near the end. In this novel especially, of the first six in the series, all is not as it seems on many fronts, and so the reader is called up short when he or she tries to figure out the mystery only discover one has been running down the wrong rabbit trail. And even when one has sussed out some of the mystery, the problem is— it still doesn't explain the murder which is at the heart of the mystery. Indeed, for the longest time, one is not even sure who got murdered since two people go missing.
Peters is in her own element in describing the house and grounds, and does a good job of building the tension in the tale. That sense of a dark cloud hovering over everything is much like many of the novels of P.D. James, and though Peters hasn't got quite the taste for the macabre or just weird that James does, one still is left uneasy at various points in this novel, especially when one of the central characters, Lucian Galt, keeps getting called Lucifer, and without question is a heartthrob and a heartbreaker when it comes to the women around him.
I was reflecting the other day about the reaction in both Newport and in London when Dylan, quite abruptly 'went electric' and produced an electric response as well. It was about the same time this novel was being penned. The huge negative response was from the lovers of pure folk ballads, who thought that Dylan had gone astray, betrayed the genre and so it. It revealed how much traditional folk music has meant on both sides of the Atlantic to so many people.
If you are of a mind to read this novel, I'd suggest reading it while listening to James Taylor's new CD. He absolutely does stand in the tradition of such folk music, and often includes a traditional ballad or two on his albums. In this recent CD he does the Scottish ballad 'Wild Mountain Thyme'
Here's a head start of JT….