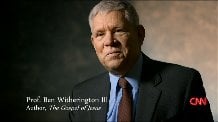 In working on the Hebrew text of Isaiah, for my forthcoming book, Isaiah Old and New
one of the things that has certainly struck me is how often bad theology happens as a result of a mistranslation or misreading of a translation of a text, usually an OT text. One excellent example of this is what happens sometimes with Isaiah 45.7.
Vs. 7 has sometimes, mistakenly been taken to mean that Yahweh is the author of everything, good and evil alike. Here again is how the matter is phrased in the Hebrew, which is to be followed instead of the LXX at this point: "I form the light and create darkness, I bring prosperity and create woe/disaster". Light and darkness are not synonyms for good and evil, this is a reference to God's good acts of creation (see Gen. 1) and is simply a way of saying God has created all the things that exist, and as the Genesis account says— God saw that it was all 'tov mu'ov— very good.
The Hebrew in question in regard to that last word in vs. 7b means 'woe' here not 'evil', and is basically the opposite of 'weal' or 'blessing'.
The point is that from the human point of view, God's judgment, even of his own sinful people will be experienced as 'woe' and undoubtedly will be viewed as negative by many. Again the Hebrew does not say God creates good and evil. It says he brings both blessing and curse, even on his own people. But God's judgment is always holy, just, and in the end for the good. It should never be seen as evil or wicked or unfair.
Of course the effect of God's judgment on a sinner can be personal disaster. As the historical Isaiah himself said in Is. 6 'woe is me, for I am a man of unclean lips'. The encounter between an unholy person and the sole holy deity can have negative effects. But it leads to something good, the cleansing of the speech of the prophet and his recommissioning to do great things for the Lord. As the Bible elsewhere says "God's plans for his people are for good, and not for harm". As David Payne and John Goldingay say in the second volume of their Isaiah 40-55 commentary, p. 27: "reflection on whether God is the author of moral evil is alien to vs. 7 in its original context."
Think on these things.