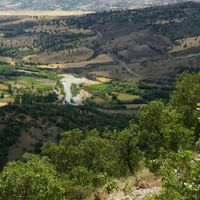 It is hard for me to stress enough how beautiful a country Turkey is. And the Commagene kingdom which includes Arsemeia, Zeugma, and Mt. Nimrud, the mount Olympus of Turkey is some of the most beautiful. Arsemeia is on the back side of Mt. Nimrud and on the way to it. King Antiochus Commagene was a remarkable fellow, not only claiming direct descent from Darius the Persian, but also the inheritor of the Alexandrian legacy, and so like Alexander he made an attempt at syncretism— a blending of religions, of cultures, in the context of a unified language— Greek. He also claims that he was like or related to the demi-god Herakles, which you can see in the pictures below shaking hands with Antiochus. These inscription stones and statues are at Arsemeia…
The last of these pictures includes my friend and guide Meltem, who is about 5'5″ tall, to give you some perspective on size of the statues. The huge inscription at and around these statues and the tomb they are connected to are impressive in themselves.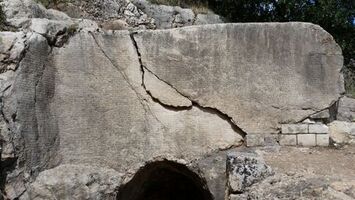 Look carefully and you will see the long inscription praising Antiochus with flowery epideictic rhetoric.
The weary traveler climbing up the mountain to Arsemeia, would quickly come on the columns indicating whose land this was,
Just look at the detail and precision in this large inscription stone…..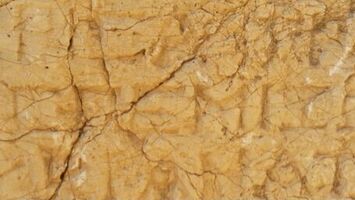 There is also a little sign helping orient us about Arsemeia….